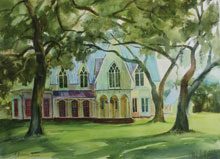 Alexandra Sharma's exhibition of intimate and revealing watercolor paintings, 
Historic Belfair and Rose Hill, 
fulfills her fascination with finding scenes and objects in hidden or forgotten places. She says, "It was serendipitous when I met Iva Welton, long-time Hilton Head Island resident, former Director of Rose Hill Plantation, and a historian of the Lowcountry, and she gave me sole access to her private photograph and history archive of Belfair mansion and Rose Hill plantation house. The photos became a reference for my paintings and provided me an intimate and alluring glimpse of private, forgotten and lost places.  Belfair, a mysterious great house with a fatal staircase and structural issues—now destroyed, and Rose Hill, a survivor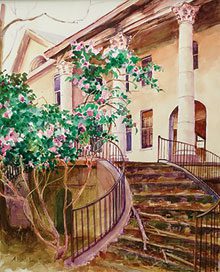 through periods of abandonment, a fire and final restoration."  
Alexandra chooses watercolors for their spontaneity to conjure the magnificence, loneliness and mystery of the place while staying true to architectural detail. All document a time past and scenes that no longer exist.    
Sharma's exhibit runs from Tuesday, March 7 – Saturday, April 1, with an opening reception on Thursday, March 16, from 5 to 7 pm. There will be a gallery walk with history presentation by Iva Welton:Saturday, March 18, 1 – 3 pm, and a painting demonstration onWednesday, March 22, from 1-3 p.m.
The Art League of Hilton Head Gallery is located mid-island, inside Arts Center of Coastal Carolina, 14 Shelter Cove Lane, Hilton Head Island, 843.681.5060, www.artleaguehhi.org