Nine artists and their travels at the Charles Street Gallery
Since that day in 1998 when a group of nine plein air painters got together over a scrumptious apple pie, a tradition of making art and exhibiting together has thrived. Based in Hilton Head, the Apple Pie Painters travel near and far to find the right subjects to inspire personal perspectives in a variety of painting media. This past year found each artist discovering a muse, not only in their beloved Lowcountry but in such far-flung places as the Hardanger Mountains of Norway, the Canal du Midi in France, Tuscany, Italy, the Greek island of Mykonos, the Caribbean, the coast of Maine, and the Indian Himalayas. The drama of their destinations combine with their pencil-sharp skills into a framed adventure that moves, flies, floats and burns with color. "My visits to the Greek Cycladic Islands, particularly Mykonos and Santorini, provide continuing inspiration," said Marilyn Dizikes. "They offer the natural beauty of the deep blue waters of the Agean, white washed buildings, and touches of color in doorways, windows, flowers and pottery."
The nine painters— Mary Kelly, John Norlander, Alexandra Sharma, Vickie Bailey Ebbers, Liz Rufenacht Brady, Marilyn Dizikes, Judy Saylor McElynn, Peter Hadfalvi, and Barbara Snow— are slowing down for a Spring show at the Charles Street Gallery from April 9-30; reception with the artists on Friday, April 9th, 5:30 to 9pm.
Charles Street Gallery is an established source for Lowcountry and international art, presented within a carefully renovated house surrounded by a lush garden in the middle of Beaufort's historic district. 914 Charles Street 29902, 843-521-9054, http://www.thecharlesstreetgallery.com.
The Banana Palm by Alexandra Sharma
"To exhibit at the Charles Street Gallery is always a special occasion for me, and now, to bring the Apple Pie Painters north of the Broad to do so together, is a pleasure. As a group we always paint together a few times each month; whereas individually, we find subjects wherever we travel regionally and internationally. During the past few years, as I spend more time in India, I look afresh at this other fascinating world. The focus for my next India trip will to create a series of temple paintings where I seek to capture an intimate mood within the grand and elaborate temple structures.
Canal du Midi by John Norlander
"My goal is to get interesting and radiant colors and I think my strength is the bold use of color. I hope the colors and energy of my painting come through to the viewer. I've had the wonderful opportunity to travel widely around the world and have enjoyed getting some paintings from those trips. Some I start on sight and some are done in the studio from photos."
Blue Moon by Mary Kelly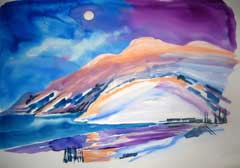 "Painting outdoors with the Apple Pie painters is always fun, but it is more interesting when we get together for a purpose. This is our first show at the Charles Street Gallery and we wanted to show off the work we did as we have been traveling, so we named our show "On the Move." Traveling to Beaufort for our show is the perfect occasion and we look forward to it. We have done other shows in which we spent the entire year painting the Honey Horn plantation as it was readied to become the new Coastal Discovery Museum. In "Inspired by Honey Horn" we documented old structures, boats, barns and views that are now no longer there. At another show, "Island Treasures Revealed," we planned an exhibit that documented for the audi ence the secret spots we had found on the Island of Hilton Head to paint, and even included a map. We gather every other week, usually out of doors for a morning of painting and lots of conversation, sometimes lunch. Periodically we also get together with spouses of the group, who are all very supportive and love to bring food for larger gatherings. Some of us have traveled together to Tuscany or India to paint outdoors, and all of us love being together. We never fight."