In the world of art, seldom do you hear more profound advice than "paint what you love and it will show in your work," says local artist and Realtor Wendy Goller of Beaufort. "With that in mind, it was natural for me to paint from the photographs and memories of great saltwater fishing trips." Wendy's art series, Reel Women Go Fish, will be featured at The Gallery, 802 Bay Street Saturday, November 10th from 6:00 PM until 9:00 PM. The public is invited.
As a South Carolina native growing up in Columbia, Wendy earned numerous awards through the Scholastic Art Association. Going on to major in art at the University of South Carolina, she studied painting under renowned artist Phillip Mullen and drawing under illustrator Chris Jones.
Although she earned a BFA from USC, Wendy decided to go directly into the restaurant business after college. In 1978 she opened Wendy Ethel's Restaurant and Saloon on Columbia's Main Street. There she met and married former South Carolina Wildlife magazine photographer and S.C. Department of Natural Resources marketing director Jim Goller. In 1999 Wendy gave up her restaurant career for one in real estate, becoming a successful Realtor and broker.
In 2006 Wendy and Jim moved to the Lowcountry. Jim, retired from DNR, continued to serve as executive director of the Harry Hampton Memorial Wildlife Fund and Wendy joined a local real estate firm. Establishing themselves in Beaufort, Jim recaptured his love of inshore fishing and photography while Wendy was inspired to become an artist again.
Wendy loves detailing the bountiful and beautiful local marine life of Beaufort County. A favorite subject is the sea turtle, but dolphin, red drum, sea trout and other fish have become her subjects, along with crustaceans like shrimp and crabs. She enjoys working in a variety of mediums and loves the endless choice of subject matter that living in the Lowcountry provides. Her oldest son dubbed her the "Crazy Creek Lady" several years ago and the moniker stuck as a signature for her art.
Wendy explains her Reel Women Go Fish series this way: "My husband brought his love of fishing home and my sense of adventure and excitement made me a willing first mate on his salt water excursions. Moving to Beaufort made fishing with the tides a new way of life and opened up a whole new world to me. But, it was at the Governor's Cup Billfishing Series awar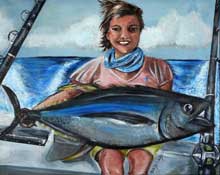 ds ceremony that I first began thinking about painting my own series featuring female anglers. The male-dominated awards were slowly being infiltrated by female anglers. So, after pouring through photo after photo of women with their catches, my Reel Women Go Fish series was born. It continues to grow as I receive new photos and other inspiration. While I love painting marine wildlife, the best part of my work is capturing the blissful expressions of my "reel" women subjects!
Come visit Wendy at The Gallery on November 10th. In the meantime you can contact her and check out more of her work at www.crazycreeklady.com.