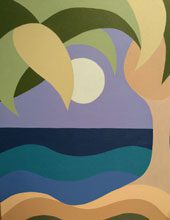 Local artist Richard Grant's February Featured Artist exhibit will pay homage to surfing and travel posters from the 1960s and 1970s. "Good Vibrations" will show from Feb. 5-29 at the Society of Bluffton Artists (SOBA) gallery in Old Town Bluffton. Come meet the artist during an opening reception from 5-7 p.m. Feb. 5th. These events are free and open to the public.
            Grant reimagines sun, sand and surf using clean lines and negative space. He reduces a beach, a wave or a tree to seemingly simple images that lead to revelations of complexity. 
            "By capturing a mood, a feeling or even a time day, I hope to create a place where everyone can connect with the color and form of nature and emotion," Grant said.
            Grant's work is influenced by artists with significant points of view who were known for pushing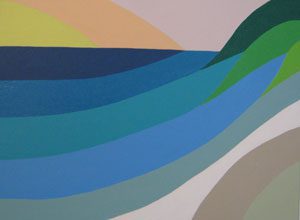 conventional boundaries, including William Morris, Georges Braque, Henri Rousseau, Roy Lichtenstein and Frank Stella.
            "I interpret images, both real and imagined, by deconstructing them into their organic and geometric forms," Grant said. "My style conveys a unique and intriguing tension between otherworldliness and real-world familiarity."
            Grant moved to Hilton Head Island from Chicago in 2017. His work is displayed at the Thomas Masters Gallery in Chicago, The Art League of Hilton Head Island gallery and several local businesses. Grant's installations can be found at Ceres' Table, Juno and Alinea restaurants in Chicago. Collections of his art also have displayed at Doubletree Hotel in Oakbrook and the Hilton Head Island Recreation Center.
            For more information, visit www.richardgrantartist.wix.com/chicago.com.
            SoBA is the heart of the flourishing art hub in Old Town Bluffton, located at the corner of Church and Calhoun streets. SoBA offers regular art classes, featured artist shows, exhibitions, outreach art programs, scholarships and more. For more information, visit sobagallery.com for a complete calendar of events or call 843-757-6586.