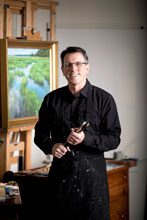 Artist Michael Reibel proves it's never too late to chase a new dream.
By Margaret Evans, Editor
Interviewing Michael Reibel is kind of exhausting. He's got so much energy it's hard to keep up. Got a list of questions? Trash it. Follow him down rabbit holes instead. There's good stuff down there.
            For instance, for a full-time working artist, Michael got a pretty late start. He dabbled in art as a kid – had a knack for it, too – but he didn't do anything with that knack, nothing at all, between the ages of 18 and 40. Instead, he studied accounting in college, then became a CPA and built an impressive career as an executive with a national healthcare company. It was going very well.
            Then one night, at a party at the Reibels' home in Louisville, KY, a local artist noticed an old painting of Michael's on the wall – "It was a purple onion I did when I was 16," he remembers – and she told him he "really had something." 
            "I think I was actually looking for something," he says. Though rapidly advancing at work and doing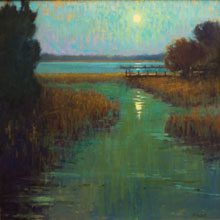 triathlons in his spare time – see what I mean about energy? – Michael needed a new challenge. A hobby.
            "She encouraged me to not let my artistic abilities go to waste, referring me to a local art studio in Louisville where I signed up for classes. Over the next six years I sought out the best instructors in the country, taking workshops from Roger Dale Brown, Gabor Svagrik, Phil Starke, T. Allen Lawson and most recently Marc Hanson." 
            The hobby was becoming a passion.
            The first juried show Michael entered was a big one in Nashville, where they only accept 10%-15% of the entries – about 100-150 paintings out of 1000. Not only was he accepted; his painting won the People's Choice Award. 
            Michael was getting serious about this art thing – so serious he started contemplating something few successful business executives with three children would dare to: quitting his job and becoming a full-time artist. He and his wife had purchased a lot at Bull Point years earlier – with thoughts of retiring to a warmer climate one day in the far flung future – but now, they considered stepping up that move. A photographer friend had advised Michael to leave Louisville if he wanted to pursue art full-time – apparently, it's a tough town for artists – and the Lowcountry, with its beautiful light and landscapes, was looking better all the time.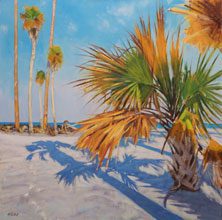 So, like any good business executive, Michael developed a five-year plan.
            "I knew the importance of having contingencies for the unexpected in any plan," he says. "There were some surprises along the way in our plan but none as profound as the one I learned about in the fall of 2010."
            Michael was in a meeting at his Louisville office when he got a call from his wife Melody, asking him to come down to the parking lot immediately. Worried, he left the meeting and found her downstairs in tears. 
            "She had been to the doctor that morning and told me she was pregnant with our fourth child – 15 weeks pregnant at the age of 46. This was one contingency not in the plan, but so very special! With tears, astonishment and surprise, she told me she still wanted to pursue our plan (so much for being empty nesters!). My wife was also in the midst of pursuing her Ph.D. in Nursing Research at the University of Louisville. Needless to say, I am quite fortunate to have married such a wonderful woman!" 
            Today, Michael and Melody are happily settled at Bull Point, where they've been raising their 8-year-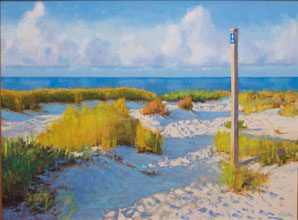 old son Joshua since 2016. Melody drives to Charleston several days a week for her teaching job at MUSC, so for the first time in their marriage, Michael is now the main family chauffer, driving Joshua to Bridges Preparatory School in Beaufort every day – a 40 minute drive each way. 
            "It's been a fun role reversal," he says, "and I've loved spending so much time with our youngest child." (Joshua also happens to be the only boy in the family. His three older sisters are now grown and living on their own.) 
            Michael's life recently got a little easier and better; he opened a studio/gallery at the Atelier in downtown Beaufort. Not only has the new space inspired him artistically – the light is wonderful, and he loves the contact with other working artists – but it's afforded him an extra hour and a half of painting time each day, time that he had been spending on the road, driving his son back and forth to school.
            Still, the life of a full-time artist isn't as cushy as it sounds. "I'm working harder than I ever have," says Michael, "but I'm having a great time!" 
            He's also making great progress. He's represented in several galleries around the southeast, and last year, Historic Beaufort Foundation chose one of his paintings for their Fall Festival of Houses and Gardens poster. His work can be found in corporate and private collections around the country, and he currently has more commissions than he can handle.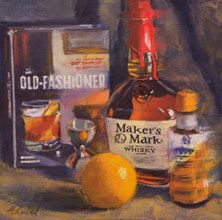 No, not portraits commissions. (Well, not exactly.) Though landscapes are his first love, Michael has stumbled upon an unusual niche specialty – still life paintings of bourbon.
            "As a native Kentuckian, I not only enjoy drinking bourbon but I love to paint it!" he says on his website. "Rich in history and beautiful in color when illuminated, this bourbon/spirits series is an idea I have had for some time. Each bourbon brand or cocktail has a unique story to tell which I attempt to tell visually through the objects chosen. All of these paintings are painted from life in my studio."
            Michael began exhibiting these oil paintings of bourbon at the Wells Gallery in Kiawah and they sold so quickly he could hardly keep up with the demand. Now he has people commissioning him to paint their favorite bourbon bottles. Each bourbon "portrait" is extremely personal – they include details like antique glassware, beloved books or pets or cigars – and Michael writes little stories about each bourbon, based on copious research. Nobody's more surprised than he is at the success of this series.
            But always, this nature-loving sportsman is drawn back to the landscapes, and the pursuit of what he calls "visual poetry." Asked to elaborate on the term, he says he's always striving to create images that are "less literal, more interpretative." Off the top of his head, he cites Monet, Sorolla, and Beaufort's own Mary Segars as inspirations.
            "I have made huge strides," says Michael Reibel, "but I am still so far away from executing what I want to accomplish. I doubt I'll ever be truly satisfied. As an artist, you never really get there."
            This writer, for one, looks forward to watching him try.
Michael Reibel invites you to an opening of his new studio/gallery in the Atelier (203 West St, Beaufort) from 5 – 8 pm on February 7, during First Friday After Five. For more information, visit www.mreibelpaintings.com