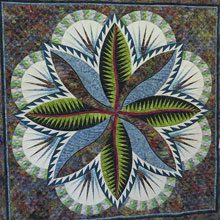 Quilt Festival 2018 is the Palmetto Quilt Guild's 14th biennial Quilt Show, featuring a display of over 150 quilts, and a quilt competition, judged by a nationally-certified judge. A Boutique of handcrafted items, Vintage Marketplace, Silent Auction, and thirteen vendors will offer visitors an array of shopping opportunities.
The 2018 Raffle Quilt, Floral Splendor, was made by 22 Guild members, and highlights both applique and paper piecing techniques. It will be awarded to the lucky winner on the third day of the Show. (The ticket holder need not be present to win).       
The Palmetto Quilt Guild, Incorporated is a nonprofit corporation formed with a mission to promote and preserve the art of quilting. The Guild now has over 160 members from Hilton Head Island, Bluffton, Beaufort, Savannah and the Lowcountry, as well as part-time residents from throughout the United States. They meet on the third Thursday of each month, except August and December, and host nationally-known speakers and workshops.
The guild's Community Service project donates hundreds of handmade quilts each year to local charities, and their Outreach Program provides wheelchair bags, mem
ory mats and lap quilts to veterans, retirement communities, and schools. Some of the organizations they support are: CAPA (Child Abuse Prevention Center), Hopeful Horizons, Crisis Pregnancy Center, Deep Well, Lifecare Center and Newborns in Need. Each year we award a scholarship to a high school senior graduating from a Beaufort County school pursuing an education in visual arts.
Every other year, the guild present a Quilt Festival featuring a display of over 150 quilts, a quilt competition, and an array of shopping opportunities. The event attracts local residents, from Hilton Head Island, Bluffton, Beaufort, Savannah and beyond, as well as, visitors to the Lowcountry during our busy month of March..
Diane (De) LeClair will be judging the quilt competition at the Palmetto Quilt Guild's 2018 Quilt Festival. De obtained her judging certification from The National Quilting Association in 2002, qualified to evaluate Masterpiece Quilts in 2005 and is a charter member of the National Association of Certified Quilt Judges (NACQJ) established in 2015.
De believe in fairness, objectivity, and a positive approach as she judges each show, and has a broad and very deep knowledge of quilting techniques, color, design, and history. Her written critique is an important learning tool, and it is her opportunity to convey to the quilt maker what they have successfully accomplished and areas which require attention. She looks for excellence in workmanship which supports the design expressions of the quilt maker.
De will be awarding the NACQJ Award of Merit to a quilt she feels demonstrates "Outstanding Achievement in Quiltmaking," as well as, Best in Show, Special Recognition Awards, and First, Second, Third, and Honorable Mention Awards in each of the 18 Quilt Categories at the Show.
De lives in San Antonio, Texas, and is a self-taught applique artist who has been crafting quilts since 1981. Her quilts have appeared and won awards at local, regional and national quilt shows including six Best of Show Awards and five Viewer's Choice Awards. She is the recipient of the distinguished Masterpiece Quilt Award given by the National Quilt Association for Coeur du Vigne in June 2006.
Quilt Festival 2018 will happen March 23 – 25 at the Hilton Head Beach & Tennis Resort, 40 Folly Field Road, Hilton Head Island. Friday & Saturday: 10:00 am – 5:00 pm and Sunday: 10:00 am – 3:00 pm. Admission is $10 for a Multi-day pass. For more information, visit www.palmettoquitguild.org. 
Above:
Best in Show 2016, by Mary Price
"Floral Splendor," 2018 Raffle Quilt