Mac Rogers at the Beaufort Art Association Gallery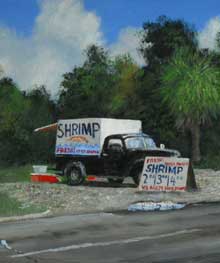 Mac Rogers is the Beaufort Art Association Gallery's featured artist now through May 11.
Mac says, "I have been blessed over the years with many opportunities to travel and paint." For this exhibit he offers a collection of more than 30 paintings centered on the theme of water.
When asked, he says his "desire is to convey the soothing yet powerful vastness of the seas,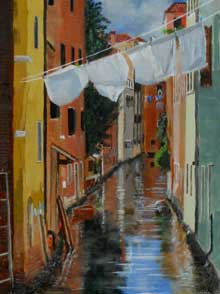 marshes and rivers enjoyed in God's creation." Though Mac may be known best for his images of Lowcountry life, he has added works created and inspired by his travels to Venice, England and the Mediterranean to new scenes of the Lowcountry. The paintings will include landscapes, people and things "unified by the presence (or perhaps a hint) of water." A few of his favorites include: an ancient footbridge over a brook in the English countryside; a roadside "Fresh Shrimp" vendor with water painted on the sign; the pedestrian bridge at Boston Common; Cathedral Rock near Sedona reflected in a pool of water; and laundry hanging over a canal in Venice. His reassures our readers that "the Lowcountry neighborhood is included, of course," with new works like "Splish Splash," the heron depicted on his show's poster.
After a 25-year career with Delta Airlines in Atlanta, Mac Rogers traded commercial jets for paint-and-palette. But he began painting as a hobby 25 years ago, before he retired from flying in 2004. His post-formal education at Clemson University includes study with Ben Shute, founder of the Atlanta College of Art, and Tony Couch, a fellow Delta pilot, watercolor artist, author and teacher. He also acknowledges influence and inspiration by SC artist Jim Harrison.
Mac and his wife Melanie are native South Carolinians who have been permanent residents of Beaufort since his retirement. As for living in Beaufort, Mac says, "Ideas are limitless. All I have to do is get up in the morning and look around. I truly can't remember a single outing (including flying) which didn't produce at least an idea for a potential painting. It's particularly interesting to me how much more aware I've become of the magnificence (and how much we take for granted) of God's creation."
Mac Rogers' exhibit and new works by more than 100 member artists will be on exhibit at the BAA Gallery through May 11. The gallery is open Monday through Saturday from 10 a.m. to 5 p.m. and Sundays from 1 to 4 p.m. The reception is free and the public is invited. For further information call 521-4444.