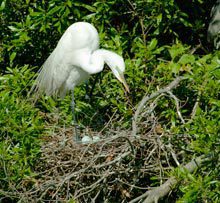 Beaufort County Birds and Their Habitats 
is the theme for Beaufort County's annual photo contest and photographers have until
5 p.m. September 4
to submit pictures of birds and/or selected habitat locations.
Winning photos will be used to create a 2013 calendar, which will serve as a public information tool regarding the County's Rural and Critical Land Preservation Program.
The contest has been held every year since 2005. It began shortly after Beaufort County Administrator Gary Kubic was hired. He said this year's theme will appeal to birders and anyone else who appreciates the outdoor beauty of Beaufort County.
"The enthusiasm generated each year among local photographers for this project has been very rewarding. We want to be flexible, though, so we have given photographers the option of shooting specific scenic habitat locations if they wish. They do not have to submit photos of birds unless they want to. The contest has always been a lot of fun for photographers and for my staff and me.
"We are working with local Audubon Club members who will help provide informative content within the calendar and identify species that will appear in the winning photos," Kubic said.
Photos of birds may be taken anywhere within the physical boundaries of Beaufort County – from Port Royal's Cypress Wetlands to Hunting Island State Park, Pinckney Island National Wildlife Refuge or one's own backyard. Photos of habitat locations (with or without birds) must be taken at one or more of the following Beaufort County Rural and Critical Land sites: Ihly Farm near MCAS in northern Beaufort County, the Trumps site on Factory Creek on Lady's Island, Crystal Lake on Lady's Island, The Green in Beaufort's Old Point, the Barringer tract and Ft. Fremont on St. Helena Island, the Buddy and Zoo Landing on Station Creek, Widgeon Point on Lemon Island, Altamaha Town Heritage Preserve, Okatie Preserve, New Riverside and Pinckney Colony in greater Bluffton, the Bluffton Oyster Company, Stoney Preserve and the Mitchellville Road Beach Parcel on Hilton Head Island.
Maps and directions to the selected sites may be found at the Beaufort County website: www.bcgov.net. The information will be posted on one of the large graphic sliders on the home page.
Legal waivers are required for some sites because they are not yet open to the public and are still in their wild state. County leaders warn they could present a danger from snake bites, poisonous plants, unseen holes or stumps or other hazards. Those who enter these properties to take photos are advised to do so with a friend.
Up to 3 photos of any combination of birds and or sites may be entered in the contest. All photos must include the name of the photographer and the location of the shot on the back of the print. Both 8 x 10 prints and digital images are required. Images must be in jpeg format and at least 300 dpi. Photos will not be returned. They must be submitted on disc and mailed with prints and required forms to:
Beaufort County Photo Contest
Beaufort County Administrator
PO Drawer 1228
Beaufort, SC 29901-1228
For more information, call (843) 575-5196.