Linda Sheppard will be the Featured Artist at Beaufort Art Association Gallery during April and May. Her exhibit, entitled "Painting at Home and Abroad," will include pastels, oils and watercolors of plein air work in France, Switzerland, England, Turkey, Italy, and Greece as well as figurative work of locals and Lowcountry landscapes and seascapes.
Linda was featured in The March issue of The Artists Magazine with her painting, "Memories at 98." She was selected as one of 10 finalists in the Over 60 Competition out of 2800 entries. Although they don't select a first prize, her painting, with accompanied story, was featured as the centerfold. "Memories at 98" will be hanging in her upcoming exhibition at the BAA Gallery. In addition, the American Artists Professional League in New York City recently upgraded her status to Fellow Magna Cum Laude.  
Linda began painting over 50 years ago. Over these years she has developed an ability to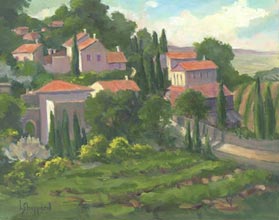 not only paint in oils, pastels and watercolors, but she uses composition, colors, and shapes to tell stories to the viewers. "My goal," she says, "is to identify the inner spiritual beauty of the person or landscape or event, and to express that in such a way that the viewers will connect." It may remind the viewers of a precious forgotten experience or capture the strength or characteristics of the person that will speak to future generations."
Currently, Linda offers private lessons to adults and high school students. She reviews the student's prior work before commitment and discusses what particular subjects or difficulties the student wants to concentrate on: building a solid composition, learning to identify color and value relationships, learning to draw or paint in a more painterly style or some weakness the student struggles with. They paint alongside Linda in her home studio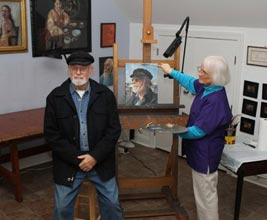 in an atelier setting. Group workshops in pastel, watercolor, or oil are also offered and commissions are accepted for children, adults or pet portraits in old master drawing techniques, oil or pastel.
Linda Sheppard's Featured Artist Exhibit at the Beaufort Art Association Gallery will open March 30 and run through May 30. The artist's reception will be Friday, April 10, 5:30 pm -7:30 pm, and the works of over 70 other member artists will also be on exhibit. The public is invited to attend.
The Beaufort Art Association Gallery is located at 913 Bay Street in Downtown Beaufort. Hours are Monday – Saturday, 10am – 5pm, and Sunday, 12:30 to 4pm. For more information visit www.beaufortart association.com