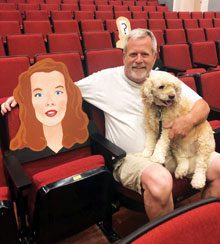 USCB Center for the Arts gets creative with its 'Fill the
House' campaign
By Mindy Lucas
If they could talk, they'd tell you the show must go on.
But they don't talk; they just seem to listen. And that might very well be their best feature.
Introducing the "Seat People" – hand-painted, wooden cutouts that literally sit in as audience members at USC Beaufort's Center for the Arts.
A creative new fundraiser launched by the center, these colorful characters are used not only to mark seats for social distancing but to fill the house with warm bodies. Or in this case, wooden bodies.
"It's been a lot of fun and each one is unique," said the center's director Bonnie Hargrove.
As Hargrove explained, an audience is something the center has been sorely missing since the theater had to shut down earlier in the year from the pandemic.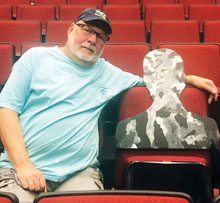 Normally Hargrove, and Deon Furman, the center's only other employee, would have spent the first half of the year planning the lineup for the next season, booking shows and finalizing contracts.
In addition, auditions for local performances would have been in full swing and the children's theater would have been hard at work practicing.
But all that changed at the end of March when an executive order issued by S.C. Gov. Henry McMaster closed theaters, auditoriums and performing arts centers among other venues.
The center, which had already closed its doors along with the university about a week before, was suddenly in crisis management mode.
"It was certainly sad and scary, but it was more, 'We gotta do this, but how do we survive and how soon will we be back open,'" Hargrove said.
After crediting ticket holders and calling to reschedule or postpone acts, Hargrove and Furman sat down to brainstorm for fundraising ideas.
The center relies on ticket sales, donors and sponsors to fund its programming, so figuring out additional forms of revenue wasn't just a novel idea – it was critical to keeping the doors open.
In fact, trying to stay financially solvent has been top of mind for theaters everywhere, said Hargrove, who frequently participates in virtual meetings and calls to network with other venues around the southeast.
In Charleston for example, directors with the Charleston Stage decided to delay the opening of the its 43rdseason at the closed Dock Street Theatre until January, 2021, saying the move would make them financially stronger when the theater did reopen.
In addition, the nonprofit has had to cut its operating budget for the next nine months by 60 percent, more than $1 million dollars, and furlough 19 staff members, according to its website. What's more, other part-time actors, musicians and technicians in the Charleston theater community have also been impacted by the shutdown, directors said.
In Savannah, the Savannah Theatre and Lucas Theatre also had to cancel or postpone concerts and shows.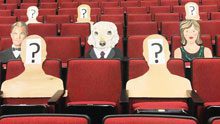 While bleak, this "new reality" for the performing arts has challenged theater directors and planners to get creative not only in their funding – but in their programming as well.
Unlike some centers that had to close completely during the pandemic, the Center for the Arts was at least able to offer live streaming or virtual content through already established partnerships, Hargrove said.
While it doesn't replace an in-person show or performance, those who miss the theater can purchase tickets online and watch performances by the Metropolitan Opera or National Theater from the comfort of their own home.
Film and independent movie buffs can also take advantage of the center's "Virtual Cinema" and watch a critically acclaimed film for a nominal fee and half of the ticket price goes back to the center.
"That's done well," said Hargrove. "And now we're looking at doing more streaming content."
In the meantime, Hargrove said she and Furman have been spending time letting people know the center is still there.
The Seat People or Fill the House campaign as it's also called, works in addition to the center's annual donor campaign. The extra initiative has been a big help, Hargrove said, since it's been the only source of revenue the center has had this summer.
"I hope it shows some sort of spirit of creativity and whimsical fun," she said.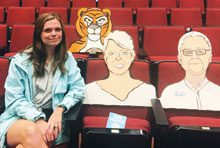 So far center volunteers and local artists have created some 21 Seat People. Some are of the artists themselves, while others are Hollywood stars or literary characters.
"And they could use some friends," she said.
Those interested can purchase a Seat Person for $300 or a pair for $500.
In the meantime, the center hopes to reopen with limited capacity around Oct. 1. It has instituted new cleaning protocols and will be following recommended safety guidelines in terms of social distancing and wearing masks.
And when the Seat People are no longer needed, Hargrove said sponsors can take them home.
"We will miss them," she said. "I'm sure we'll have a party or something for them."
If You Go
The Seat People will be featured as an outdoor installation as part of the Art Speaks opening, 6-7 pm, Sept. 10, at the Center for the Arts, 801 Carteret Street, Beaufort.
A special juried exhibit, Art Speaks will feature over 50 pieces of new work, in a variety of mediums, created by local artists during the pandemic. Motor City Pops will be on hand for the event.
For more information on Art Speaks or the Fill the House campaign, visit www.uscbcenterforthearts.com

Pictured Above:
Greg Rawls & 'Katherine Hepburn'
Omar "Omally" Patterson with 'Himself' & 'Josephine Baker'
Dusty Conner with 'Himself'
(Seat Dog) 'Oliver Rawls' with Seat People
Cady Wilson with 'Pat Green' & 'Bill Robinson'