Net Results:New Paintings by Melba Cooper and New Weavings from Kim Keats, will be on exhibit at the Charles Street Gallery from May 23 – June 20. The public is invited to an opening reception on Friday, May 23, from 5:30 – 9 pm.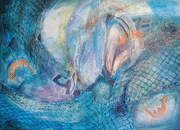 Kim Keats is an established fiber artist who uses off-loom techniques and natural materials gathered from Okatie and beyond. Melba Cooper is a practiced painter who integrates nature and observation into her creative process. Together they offer Net Results, a show about the coastal waters here that provide inspiration, livelihood, and repast in the Lowcountry.
"The water has buoyed our spirits and continues to enrich our lives – whether by food gathered from casting our nets, fishing with friends or a young child, or sailing and kayaking. We enjoy the exploration of the many Lowcountry labyrinthine creeks and waters."
Both Melba and Kim also work in Beaufort County schools as teaching artists, using their skills to help students learn through the arts. For Melba, nets have been a part of her life and work since the purchase of a beautiful, handmade shrimp net, in 1974, from the legendary St. Helena Island net maker, Reuben Fripp. Today, that net continues to provide artistic inspiration, as it hangs from one wall of her art studio.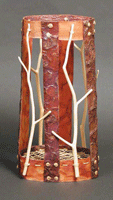 In her work, Kim's use of natural materials and netting techniques connect her to the heritage of harvesting and gathering. She has cast many shrimp nets in local rivers for the past 20 years. Kim's work was recently selected to be in the Medical University of South Carolina's Contemporary Carolina Collection, the largest body of contemporary South Carolina art on permanent display.
Their Net Results show includes a netted installation displaying individual pieces priced at levels for everyone. "We are artists," they said in their statement, "As artists, Net Results is our attempt to capture and portray the passion we feel for the culture and the people. People's lives interplay with structures and objects – like the webbing of nets – and form a collage full of changing, shifting colors, textures, and patterns. In doing so, the collage appears to be a beautiful, interweaving of form and function of a way of life that feels too much – as though it is wrapped in a process of inexorable change. Art is a primal means of integrating, and being enriched by, the beauty and truth that sustains the human spirit."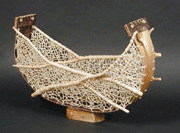 As the poet John Keats stated, "Beauty is truth, truth beauty. That is all ye know on earth, and all ye need to know." In other words, the Net Result.