A Conversation With The Everyday Gourmet On The Occasion of Her 250th Column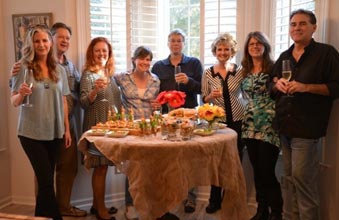 By Mark Shaffer
In the seven years I've known Debbi and Vince Covington, it seems that whenever we're together some sort of celebration is happening, sometimes for absolutely no reason to be found. It's no coincidence then that Debbi titled her recent award-winning cookbook
Celebrate Everything.
It's what she and Vince do. And as Beaufort's best caterer, it's also her job – one this feisty tarheel transplant is passionate about. I'm sure I'll hear about the "feisty" thing. But it's a pretty good word to describe my friend and colleague. "Passionate" would be another. She's passionate about a lot of things, including her beloved cats, Carolina barbecue (from Parker's in her hometown of Wilson, NC), and bourbon. You've got to love a Southern girl who appreciates fine whiskey.
            Debbi recently catered a cocktail reception in honor of actress Andie MacDowell and author Pat Conroy during the Beaufort International Film Festival. I was standing next to Pat when Debbi slipped him a copy of "Celebrate." His eyes lit up like a kid at Christmas. It was a nice moment and I was pretty sure that the rest of the evening, even in the company of a glamorous movie star, was simply prelude to devouring that book. (He's written a pretty damn good one himself.) Evidently I was right. The next night at the awards ceremony he told her he'd read the book cover to cover. A fine compliment and one you're not likely to hear her repeat. Debbi may "celebrate everything," but it's
up to the Lowcountry Weekly family to celebrate her as we mark 250 columns and ten years in these pages.
            It's a milestone in a journey that began when Covington approached Lowcountry Weekly Publisher Jeff Evans at social event and pitched the idea of a recipe column. Evans wasn't sure the idea would fly with his readers, but Covington sold him on printing two trial pieces.
            "I haven't missed an issue since," she says.
            In the beginning there was only gray – as many as eight recipes spread over two pages without photos. Things have progressed a bit over the last decade. People want to see the final product. The Everyday Gourmet averages about three recipes with plenty of pictures, nearly always snapped by the cook herself…
Debbi Covington: You eat with your eyes first. Human beings are very visual.
Mark Shaffer: "Celebrate Everything," was a feast for the eyes (shot by Paul Nurnberg).
            DC: There was a photo of every recipe. And the cool thing is that readers send me
lots of photos. I love that. And Lowcountry Weekly readers are not shy about emailing or calling me about all sorts of things. And I always answer them.
            MS: If you're doing something a little exotic do you make sure the ingredients are available?
            DC: Absolutely. I did something recently that called for rosewater and I went to Urban Market to make sure they had it. There was another one with hoop cheese – which is a North Carolina thing, but one of the stores has started carrying it so I included that info. I try to make all of my recipes easy, simple and delicious with easy to find seasonal ingredients.
            MS: Seasonal is very important, particularly around here.
            DC: Sure. I mean even though you can find strawberries in winter, I'm going to do those recipes in the spring when we've got beautiful fresh local fruit coming in. I was talking to a friend recently who recalled a time when people ate what they grew in their gardens. You ate what was in season. I remember learning to like fresh asparagus and it was only around for about six weeks. Now you can get it year round but it doesn't taste like it did when you could only get it for that short time.
            MS: A lot of people are getting back to that notion, buying local and getting back to the garden. It's that time of year and I for one could use a column on canning. I don't know a damn thing about it.
            DC: In North Carolina it's called "puttin' up." My mother used to can. I remember the Mason Jars in the pot on the stove. I used to go stay with my Aunt Peggy in the country and she'd say, "W
e need some cabbage." And I'd go get my shoes on – we ran barefoot all the time – because I thought we were going to town. And she'd hand me a knife and we'd go out back and cut cabbage. She taught me to shuck corn. She'd work all day as a nurse and come home and put up corn into the wee hours, catch a few hours sleep, get up and fix my uncle breakfast and go to work. Even now, in her late 80's if you go to my Aunt Peggy's house hungry she's going to reach for a Mason jar of okra and tomatoes she's canned herself. There's nothing better!
            MS: What sort of process goes into creating a recipe?
            DC: Usually I wake up at three in the morning with an idea for something that is so weird it might actually be good.
            MS: Like strange combinations?
            DC: Weird stuff. Like blue cheese and chocolate. I made these little blue cheese muffins with walnuts and dipped the top in dark chocolate. I get these odd combinations in my head and then just build on it or I might remember something from my childhood and try to put the flavors together. The fact that I don't fry anything is tough, too. I grew up in the land of fried food.
            MS: Do you catch flak for that?
DC: No. None. I mean, I cater and I don't fry anything. Just about anything fried is good. It's much harder work to come up with better things that aren't fried.
            MS: Each column is built around a theme or a meal with lots of different components.
            DC: That I have to make and photograph.
            MS: While running a busy catering business and occasionally writing a cookbook. When you decided to do "Celebrate Everything" how did you approach it?
            DC: I flew by the seat of my pants (laughs). Honestly. If Paul and I had a shoot on Thursday I'd start thinking about it the Saturday before. But literally most of it was out of nowhere. I didn't plan any of it. It's amazing the book turned out so well. And now "Celebrate" is kind of my brand.
            MS: You marketed the book well and it just sort of stuck. Luckily there are many, many things to celebrate.
            DC: Keep on Celebrating! I do try to live my mantra. (Both laugh) And you know that.
            MS: Yes, I do.
            DC: But the trick for me, because I love it so much, is to hopefully make each thing better. I'm always trying to improve what I'm doing whether it's the column, the cookbooks or catering. You've been to parties at our house.
            MS: Oh yeah.
            DC: I try to make each one a little different. That's what makes it all fun, the artistic side of it. Otherwise you're just fixin' up a mess of food and slapping it on a plate.
            MS: Do you ever get to a point sometimes where you just can't look at another recipe?
            DC: Maybe during chicken salad season.
            MS: Chicken salad season?
            DC: (Laughs) In
the spring everybody orders chicken salad. I make enough to float a boat every year. I'm excited when it starts but by the end, not so much.
MS: It's a crowd pleaser. But as we all know you can't please everyone.
DC: When I started catering I got two really good pieces of advice. One was from Vince's dad, Pete Covington, who a lot of people in town remember. He was a county councilman and very much loved. Pete's advice to me was "Don't get greedy." Which is true. You've really got to watch the economy and know your customers – especially with my non-profits. I know when they hurt and I try to help any way I can.
            And my dad said, "You just worry about what Debbi's doing, not about what everyone else is doing." Great advice. And it's worked. I'm pushing year eighteen in catering this June.
            MS: But you didn't start out to do this.
            DC: No. I'm sort of living my mother's life – what she wanted to do. She was a home economics teacher at Mars Hill College. My dad was as an extension agent. When she got pregnant with me that was the end of her career. But she was always cooking and I was in the kitchen with her all the time. She'd let me stand on a step stool and help and it just kind of . . . stuck.
            MS: And then there was your Aunt on the farm.
            DC: City and country. And there were two different styles of cooking, too. My mother tried to get away from my grandmother's cooking which was like peas and corn, biscuits and chicken fried in lard in a cast iron pan. And we'd have that sort of stuff every Sunday we went to granny's house. So mama wasn't having any of that. She made other stuff like home made spaghetti and pizza and lots of spicy food. So, I got both sides.
            MS: Did you watch Julia Child or any of that sort of thing when you were a kid?
            DC: No, there really was a lot on and Julia really wasn't in our wheelhouse.
            MS: And now we've got Cupcake Wars on the Food Network.
            DC: I was invited to go on Guy's Grocery Games but I couldn't see myself frantically running down the aisles pushing a buggy.
            MS: You're right. Some things are just unnecessary.
            DC: I just love the food. You know when Vince and I had our first apartment we used to invite friends over and cook. And we did stuff we thought was freaky like fondue that some of our friends had never heard of. Now that sort of stuff seems so basic.
            MS: And Vince has been there all along.
            DC: People think he must eat so well. Uh, no. When we first got married he had a thing about certain food. He wouldn't eat tomatoes and strawberries. But over the years I've found that if I feed him at about 10:30 at night, he will eat tomatoes and strawberries. (Both laugh)
            By the time I get home from a job and get around to making something for him, he doesn't care. It's like, "Honey, I'm too tired. Fix yourself a hotdog." Today I had a little bit of leftover chicken salad he wanted. I said, "Fine. It's in the fridge. You're on your own."  
            MS: You're not looking at that chicken salad anymore, are you?
            (Both laugh)
            DC. No way.