The Art League of Hilton Head Gallery is currently presenting its annual "Holiday Arts Boutique and Miniature Show," which runs through January 9 at the Gallery in Pineland Station, Suite 207. The Gallery is open Monday- Saturday from 10:00 a.m. to 6:00 p.m.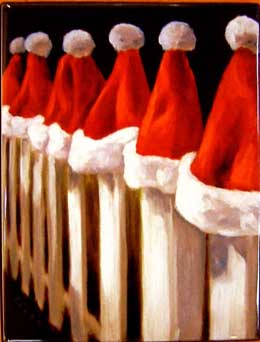 The holiday season is filled with gift-giving opportunities, and the Art League Gallery makes it easy to find something for everyone on your shopping list. The entire Featured Artist room of the gallery is devoted to the Holiday Arts Boutique. The main gallery space contains miniature paintings and its usual selection of fine artwork by member artists – works in oil, pastel, acrylics and watercolors in a variety of styles and subject matter. Photographs and note cards, as well top-quality prints, expand the available choices. Items are one of a kind and unique to the Art League Gallery.
In a renewed Spirit of Giving this year the gallery is filled with fine art created by more than 100 local artists and, specifically for the holidays, an expansive selection of giftable art items: miniature paintings, prints, expert woodturnings, pine needle basketry, ceramics, and wearable art. Scarves and jewelry are among the wearable arts products.

Not able to make a choice? A paid membership in the Art League will bring a friend or family member the benefits of belonging to the largest art organization on the island, including a monthly newsletter, invitations to show openings and special events all year long. Or, purchase an Art League Gallery gift certificate in any denomination, and let the recipient make his or her own selections.

Still undecided? Is someone you know interested in learning to paint or draw? An art class taught by acclaimed artist instructors at the Art League Academy on Cordillo Parkway might be the perfect gift that will bring lasting joy. The Art League will help you make a selection and register someone for a class.
For additional information about the Holiday Arts Boutiques or the Art League call the Gallery at 843-681-5060 or check the website www.artleaguehhi.org
The Art League of Hilton Head promotes and supports the visual arts through education, exhibitions and partnerships for the cultural enrichment of the community and its visitors.