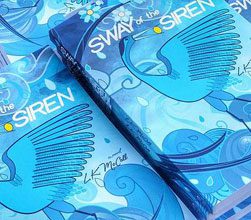 When the body of a white woman who appears to have been beaten to death is discovered in the middle of a sweet potato patch, fear and suspicion grip Goethe Island, the last remaining untouched Gullah community off the coast of Beaufort, South Carolina. The residents, who are fighting to save their way of life, worry about outside interference and the bad publicity a possible murder will bring to their ancestral home. As the investigation begins, a love story emerges as those closest to the dead woman recount their connection to her.
Set in the Lowcountry, Laurie Kellogg McCall's debut novel Sway of the Siren seamlessly weaves history throughout a compelling narrative written in poetic prose, taking the reader on a journey through oppression, seduction, destruction, and finally redemption.
Laurie Kellogg McCall was born and raised in South Carolina, having always lived near the coast or the mountains. Growing up with a quirky, free-spirited mom who was a social worker and victims' advocate and an extremely hardworking father with a love of history, language, and literature impacted Laurie in significant ways. Together these influences made for a fiercely independent woman in perpetual motion with chronic insomnia. It also makes for a woman with the heart of a warrior and a love for adventure.
After moving to the Lowcountry a few years ago, McCall came to appreciate the Gullah/ Geechee culture and the rich traditions that the descendants' ancestors brought from Africa and passed down. She was moved by the plight of the people to protect the physical connection to the their ancestors and their land by preserving their place in the present against outlandish property tax increases.
Surrounded by the beauty of the Lowcountry, living in a bohemian fishing village alongside the May River, shaded by palm trees and live oaks dripping with Spanish moss, Laurie found herself inspired to create a story of redeeming love set against the backdrop of a South Carolina sea island inhabited by descendants. She credits her mentor, Elijah Heyward Jr., author of Stories and Poems of a Gullah Native, with teaching her about Gullah culture, writing, living, business and faith. Elijah's influence has made her life richer, inspiring her to give back.
As a result, McCall will donate 40% of her book proceeds to the Pan-African Family Empowerment and Land Preservation Network (PAFEN) through December 31, 2015, and will continue to donate 10% of the proceeds as long as she owns the rights to the book. Since the book launch on November 21st, $700 has already gone to PAFEN.
Laurie Kellogg McCall will sign copies of Sway of the Siren at the Red Piano Too Gallery on St. Helena Island on Saturday, Dec. 19th from 2-4 pm. For more information visit www.redpianotoo.com