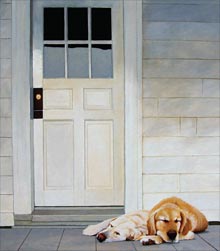 The Art League of Hilton Head is proud to present 17 new original works by Addison Palmer, featured artist, in the Walter Greer Gallery, located in the Arts Center of Coastal Carolina at 14 Shelter Cove Lane, Hilton Head Island. This fine art exhibit will be on display beginning September 24 through October 20
. An opening reception will take place on Thursday, September 27, from 5-7 p.m. with Addison Palmer in attendance. The food and beverages are provided and sponsored by Harris Teeter. Member artwork will also be on display.
All works will be available for viewing on the Art League of Hilton Head's website, beginning approximately one week prior to the opening of the show. Purchase inquiries will be handled by the office manager, Donna Lane, or the daily gallery docent at the Art League of Hilton Head by contacting 843.681.2399 (office) or 843.681.5060 (gallery).
James Addison Palmer III was born in Savannah, GA, in August of 1970. Addison has spent most of his life on Hilton Head Island, SC.
From an early age, Addison has been drawing and painting the world around him – not surprising considering his strong artistic background. Addison's great grandfather was a pen and ink artist in New York who focused on doing portraits for newspapers from around the world. His father, Jim Palmer, is a long time landscape painter, and his uncle, Walter Palmer is a sculptor.
Addison graduated from Hilton Head High School in 1989, then attended Brevard College on a full scholarship in the arts, but also as a stand-out distance runner.
After graduating from Brevard, Addison moved to St. Simons Island, GA where he opened his own art gallery in 1994. Addison focused even more on his painting at this time, but also his running, where he had an Olympic standard time in the marathon. Since the age of thirteen, Addison has been painting full time, doing commissions, shows, and work for galleries. From day one, he has painted the world around him in his landscapes, seascapes, wildlife and portraits. His work has a loyal following of many private and business collectors in the US and from around the world.
Along with his painting, Addison is asked to teach workshops throughout the Eastern US and is invited to teach paint classes to demonstrate his work. Addison has enjoyed hosting these workshops on world cruises such as the Cunard and Seabourn.
Addison's original work can be seen in galleries like the Morris and Whiteside Gallery on Hilton Head Island, SC; the Anderson Art Gallery on St. Simons Island, GA; the Sheldon Fine Art Gallery in Naples, FL and Newport, RI; and the Shain Gallery in Charlotte, NC.
Addison paints and resides between the coast of Georgia, to the mountains of North Carolina. He is inspired by the natural beauty that surrounds him and these images of the Lowcountry are reflected in his current work.