An exhibit of work by Beaufort photographer Gary Geboy will open with a reception at Plum Elements (161 1/2 King Street, Downtown Charleston) on Thursday, November 5h from 5:30 – 7:30 pm. Gary will also be featured there the following night during Art Walk. For more information call 843-727-3747.
About his show, the artist says:
"I've spent the last five years working with the grandeur of Lowcountry landscapes, creating emotional portraits of the environment. But each vista is made up of hundreds of details: elements of texture, form and function easily overlooked. So for this show, I've turned to the parts that make up the whole. Up close is how I describe the intimacy of the series, a different vantage point for me.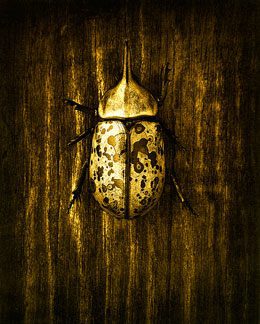 "I've always collected curiosities, things I didn't need but intuitively treasured as a child. So in a way, photographing the bugs and eggs and shells of the Low Country was natural. I remember the fascination of specimens that naturalists brought home from far away. Travel was out of most people's reach, so even common things found overseas became wonders in a glass cabinet, or illustrated on a parchment page. I wanted to elevate what's common here to that same sense of marvel. To me, they are treasures, so I add gold leaf to a platinum/palladium print and allow its luminance to work a kind of magic. The back of a magnolia leaf becomes a map; a robin's egg a jewel.
"The floral cyanotype series is another path to the same place. Instead of stepping back and admiring the color and artistry of a garden, I get close up. Stripped of background, context and even color, these lilies, azaleas and camellias become abstract. Like blueprints of nature, they are architectural and tender at the same time. I see them like a window in a dark room, bringing an ethereal beauty inside and closer to our lives. "
And what about the process?
Platinum prints are the sine qua non of photographic art – remarkably subtle, with rich tonal ranges and luxurious textures. Geboy hand mixes, coats, exposes and develops each image in his limited edition portfolios. The hand-coated paper is archivally stable and, as one of the most permanent of photographic processes, platinum is also one of the most environmentally safe. A hand-coated platinum/palladium (Pt/Pd) print consists of pure platinum and/or palladium metal imbedded upon and inside the paper at a considerably greater thickness than by machine. A well-made platinum or palladium print excels in the delicacy of the tonal scale, image color and depth.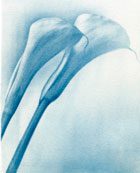 Prized for its rich, subtle tonal range, platinum was a popular method of making photographic prints at the turn of the 20th century. Photographers such as Alfred Stieglitz, Edward Steichen, and Frederick Evans led the way.
For the Plum Elements show, Geboy updates the technique by incorporating it into gold leaf, mixed media images. His highly-detailed, naturalist still-life series is printed on transparent velum rather than rag paper, allowing the hand-painted gold leaf to illuminate the image.
The floral portraits debuting at the Plum Elements exhibition have an entirely different luminance. Cyanotypes are also a gift from early photography, developed in 1842 by Sir John Herschel. A darkroom process involving two metals bathed in ultraviolet light results in an insoluble blue dye known as Prussian Blue. No two cyanotypes are alike and the pigment prints Geboy creates from cyanotypes vary in color from pale porch blue to rich indigo.
About Gary Geboy:
Gary Geboy's 30 years in photography and cinematography have taken him around the world – from Peace Corps documentaries in Kyrgyzstan to a National Gallery of Art exhibit on ancient Mexico. His fine-art photography has been exhibited at the Charleston's City Gallery at Waterfront Park, the Charleston Center for Photography, the McLean Center for the Arts in McLean, Virginia and in one-man gallery shows in Milwaukee, Wisconsin and Beaufort and Charleston, South Carolina. He specializes in environmental portraits in platinum/palladium, many of which can be seen at Plum Elements and on his website www.garygeboyprints.com.
A book based on Geboy's signature black-and-white Lowcountry landscapes, "Transfer of Grace" is in its second edition. "Transfer of Grace" is featured on the international Holga photography website www.holgainspires.com and was a finalist for ForeWord Magazine's photography book of the year award. It is published by Joggling Board Press and sold online and in more than 100 book stores.