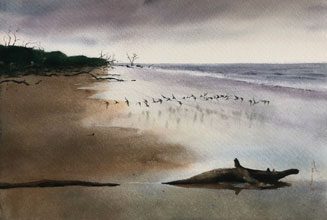 Robert Hild, a resident of Beaufort County and a member of the prestigious American Watercolor Society, received his Doctor of Arts Degree from Carnegie Mellon University.
His love of the sea began as a teen when he first encountered the Atlantic Ocean. In later years, Robert lived in Beaufort, whre he taught courses at USCB and TCL and regularly visited and photographed Hunting Island. He returned to live here permanently in 2013. He has made a series of paintings of seascapes and landscapes of Hunting Island through the years and these will form the basis of his show at USCB Center for the Arts, May 3 – 31. Mr. Hild's inspiration for this show was the recent devastation of Hunting Island wrought by Hurricane Matthew and the efforts needed for reconstruction. All sales proceeds from the show will go to the Friends of Hunting Island, in their 25th Anniversary Year, for Park habitats, facilities and sea turtle conservation. To preview some of the paintings visit www.friendsofhuntingisland.org and click on SHOP.
         Meet Robert Hild at an opening reception on Thursday, May 3, from 5:30 – 7:30 at USCB Center for the Arts in Beaufort.