Beaufort's Mystic Osprey Gallery in Habersham Marketplace will showcase new works from Artists Pamela Corwin and Mark S. Holland, Friday October 23, 4-7 pm.
Mystic Osprey has made a name for itself in the South Carolina Arts scene with its single-minded curation and focus on fine artists who use their talents to showcase nature, wildlife, and our earth's precious habitat.
Artist Pamela Corwin is a wildlife and fisheries biologist here in South Carolina focusing on American shad and striped bass. The only art courses Pam ever took were in high school. Most of Pam's work is wildlife and outdoors related and as her artistic voice developed Pam became known in the biology community as the "Artistic Biologist."
After college, Pam obtained her first real job with SCDNR as a fisheries technician and she joined the South Carolina Army National Guard where her main job the last two years was suicide prevention. 
As Corwin states, "The only way we can help is to talk about it. I believe by talking, we're breaking that stigma and taboo. It's deep, tough, and emotional, but silence is a killer."
She had her fair share of Army life but some of her sisters and brothers in arms had way more than their fair share in the crossfire. They were coming back with PTSD; some were missing legs and arms. 
After many years with no art in her life, Pamela volunteered at a veteran's shelter in Charleston,  S.C., where she picked up some art supplies and started having art therapy with these veterans. Pam did not really draw or paint; she was there for support.  She was there to show them, and eventually herself, that art is a form of therapy that speaks without words. 
After graduate school for Avian Ecology at The Citadel, Pam decided to paint a brown trout as a birthday card.  She said, "The brush strokes felt as if they had never left." Once the trout was finished, she gave it to her husband, and he showed it to someone at DNR headquarters, the ideas started brewing. DNR was coming up with a program for anglers that catch trophy fish.
This was called the Trophy Angler Program and the certificates were to have fish artwork painted by Corwin. So, she started painting fish. Then, projects for S.C. Wildlife Magazine followed. 
Be sure to stop by the gallery to see the Great White Shark made with 300 fossilized shark teeth found here in the Lowcountry.
The second artist to meet at Osprey on Oct. 23 is Mark S. Holland. Holland's oils of woodland & wetlands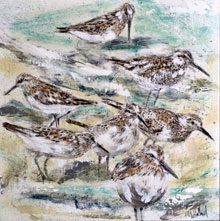 scenes on wood panels look as if John Audubon had a long afternoon tipple with Lewis Carroll.   
Fanciful and playful, his painted panels of nature's flora and fauna remind you of a childhood memory spent barefoot in nature in the most dreamlike outdoor setting with nature's creatures unseen, yet right in front of you. As Holland says of his own work, "There is no hidden meaning in my work. Nothing for the viewer to figure out. I am sharing what we all need. It is our shared attachment to this planet and the living things in it…I make my work not only for myself but for all so that together we can celebrate Nature and our existence in it."
"I've always been an artist who observes culture and nature, particularly the hidden things not readily seen in a glance. It is my mission to take the unseen and make it seen."
Holland's work is part of the Kessler Collection at the Grand Bohemian Galleries in Asheville, NC; Charleston, SC and Orlando, Fla; and exhibited at Beaver Lake Lodge, Beaver Lake, CO and a featured artist at 2020 SEWE in Charleston, SC.  
"As artists, Mark and Pam are exactly what Mystic Osprey is all about. This is collectible (and affordable) art that brings the outdoors into your home decor beautifully. 
Every time someone looks at these works, they will see something new in nature, and hopefully that looking for something extra will carry forward in the way in which that person appreciates our planet on which we live, and the creatures we should be celebrating & sustaining for our children, and their grand-children," said Robert Howell, the gallerist behind Mystic Osprey Gallery.                                                                                                                                                                                           
Mystic Osprey's Fine Artists are represented in other geographic areas by world-class galleries and have their work in private collections around the world. You can reach Osprey's website to shop online, or set up a private appointment at MysticOsprey.com.The gallery reopens for Fall on October 16th, and to keep its patrons safe, CDC recommendations for social distancing and masks will be followed.  Masks will be provided for guests who do not have them.
Habersham Marketplace offers restaurants, retail shops, and wellness services all within walking distance. When you plan your visit to Mystic Osprey Gallery, please allow enough time to wander the one-mile Habersham Discovery Trail and find eleven beautiful, community-painted birdhouses for wren, kestrel, owl, and wood ducks and enjoy the Habersham marketplace and community. Marketplace.HabershamSC.com.
Above: Works by Pamela Corwin (top) and Mark S. Holland