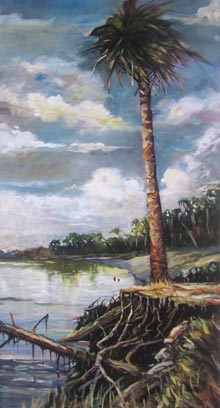 The Society of Bluffton Artists presents "My Visions," a collection of original oil and watercolor paintings by local artist Kenneth Bullard, on display from March 3 through April 5.
For more than 40 years Ken has had a paintbrush in his hand. Born in Connecticut, he is a self-taught artist who continually draws new lessons with each stroke. He works primarily in oils and watercolors. He credits the comic and fantasy work of Frank Frazetta as his biggest influence, opening his eyes to the true meaning of the craft.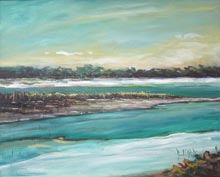 In recent years, a move from the Northeast to the Lowcountry has evolved the style and inspiration of Ken's work. His work depicting our beautiful landscapes will captivate the viewer and, as he says, "if one of my paintings can evoke emotion in those viewing it, I consider the piece a success."
Excited to have his first featured art show, Ken says, "The exhibit is dedicated to my lovely wife Nancy. This exhibit simply would not exist without her constant and unwavering support."
Don't miss this impressive show; please come meet the artist at a reception from 3 – 5 pm, on Sunday, March 9, at the SOBA Gallery. Enjoy refreshments, the art of Kenneth Bullard, and the work of over 100 other member artists.
The gallery is located at the corner of Church and Calhoun Streets in Old Town Bluffton. Call 757-6586 or visit sobagallery.com for more information.