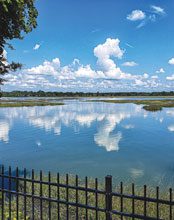 The Beaufort Digital Corridor is pleased to announce the Photography Club of Beaufort as this summer's BASEcamp Gallery installation. The club was drawn to BASEcamp's contemporary setting when utilizing office space for a photography workshop last fall.
This photography exhibit will display at BASEcamp throughout July, August, and September. All prints will be offered for sale. Plan to Meet the Photographers and enjoy a glass of wine at First Friday on July 5th from 5-7pm at the Digital Corridor's BASEcamp- 500 Carteret Street, just a few blocks from the downtown galleries.
The Photography Club of Beaufort was formed in 2005 and has grown to over 125 members. The club offers monthly programs as well as workshops, field trips, and exhibits. Rebecca Bass, a past president of the club, is looking forward to this summer exhibit: "This is a fantastic opportunity to showcase the talent of our local photographers in an innovative space."
Community, the most important pillar of the Beaufort Digital Corridor, connects the Corridor and the greater public. The Digital Corridor supports Beaufort's visual arts community through BASEcamp Gallery.
Above: "Lowcountry Sea Horse" by Rebecca Bass