The historic Penn Center's York W. Bailey Museum presents The Art of Cassandra M. Gillens— a spectacular collection of art depicting Lowcountry living at its best and the Gullah lifestyle. The collection will be on exhibit November 7th through the end of December. Cassandra Gillens was chosen to be the 31st Heritage Days Celebration Featured Artist and was commissioned to create a work of art depicting the Penn School story and the rich heritage of the Gullah people. She created "Teaching the Trade," beautiful rendition of the Penn School era. Penn Center cordially invites the public to attend this free art event opening—a meet the artist wine and cheese reception from 8-10 pm on Thursday, November 7th.
Cassandra M. Gillens is a self-taught artist residing in Beaufort. Born in Boston, Massachusetts, Cassandra was always creative and artistic. Her earliest memories of drawing with colored chalks in Roxbury, Massachusetts remained a part of her when she began to paint pictures depicting her early childhood years. Cassandra is a member of Beaufort Art Association. Her art can be found in all parts of the Lowcountry, and various states throughout America. She has been featured in dozens of newspapers and magazines such as Southern Living. Cassandra won the accolades of United Airlines, and was proudly featured in the magazine's February 2007 edition. The artist had the honor of having her paintings featured in the movie Nights in Rodanthe, starring Richard Gere and Diane Lang, and most recently HGTV featured her artwork in the 2013 Dream Home. Her participation in Piccolo Spoleto resulted in a sellout.
Cassandra's fondest memories of her visits to South Carolina moved her to paint these visions of The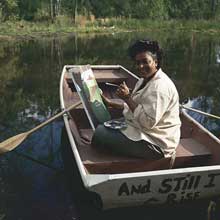 Lowcountry's comforting southern culture. From her youth, she dreamt of one day returning to the place that won her heart and spirit, and upon her return, became closely connected with her people and culture she so loved. Cassandra's paintings show that love with vivid colors of the southern seasons and images of good old southern living.
Joining the Featured Artist on November 8th—9th will be many folks participating in "Artists & Authors Row" at this year's Heritage Days Celebration. The Row will feature the creativity of local, regional and national visual artists, craft makers and authors. Visit Artists & Authors Row and find painters such as Saundra "Renee" Smith, Christopher A. Smalls and Victoria A. Smalls of St. Helena Island, Marquita Willis of Bluffton, John W. Jones, Geraldine Smith and Laura Young of Columbia, SC, Bruce Ingram of Augusta, GA, Serena Hall of Darien, GA, quilters like Vermelle "Bunny" Rodrigues of Pawleys Island, SC, Jacqueline McKenzie of Kennesaw, GA, craft & jewelry artisans like Rose Willis of Bluffton, SC, Mary Moore Anderson, Claudette Walker of Biloxi, MS, pottery & sculpture artisan Elizabeth Collins and authors like J. Douglas Allen-Taylor of Oakland, CA, Kimberly Harmon of Beaufort, SC, Dr, Phyllis Gray of Tallahassee, FL, and William Carson of Hilton Head Island. The Row will prove to be a wonderful addition to this year's celebration and will have original items and prints available for sale.
Penn Center is recognized as one of the nation's most significant historic and cultural institutions. The mission of Penn Center is to promote and preserve the history and culture of the Sea Islands and in doing this provides many public programs for the community at large.
For more information on Penn Center, "The Art of Cassandra M. Gillens", the exhibit opening and "Artists & Authors Row" please visit www.penncenter.com or call 843-838-2432.