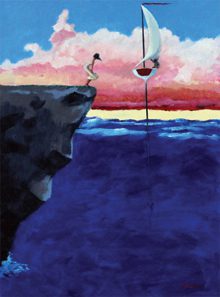 John K. Crum is a master of whimsy. Although his paintings start with everyday subjects, like people and familiar landscapes, John is able to invent a curious twist on the ordinary that is fun and imaginative. His colorful "what-if" visions invite each viewer to connect in their own way; each image capable of taking everyone on their own unexpected and sometimes magical journey.
A graduate of Ringling School of Art and Design in Sarasota, Florida, John received classical training in fine and graphic arts. He maintained a life-long career as an illustrator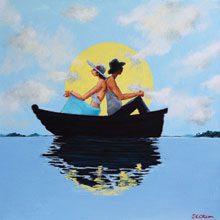 and graphic artist, attaining the positions of Art Director and Creative Manager in the fields of publishing, advertising and marketing.
John became a full time "islander" in the summer of 2001 and now concentrates on sharing his sense of humor and love of life though his paintings. He credits the "wonderful, cultural influences and surreal landscapes" of the Lowcountry as his daily inspiration.
John defines his work simply. "A painting is successful when the viewer stops, takes a closer look, and then smiles."
J.K. Crum's Making Smiles Exhibit runs October 13 – November 7 at the Art League of Hilton Head Gallery located mid-island inside Arts Center of Coastal Carolina, 14 Shelter Cove Lane, Hilton Head Island, 843-681-5060.Over 100 additional pieces of member artwork in a variety of media will also be on exhibit and for sale. The public is invited to an Opening Reception on Thursday, October 15, from 5pm-7pm. Enjoy refreshments and meet the artist.