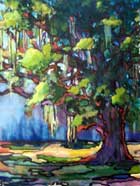 Five plein air artists come in doors for a group exhibit
The Art League of Hilton Head Gallery presents "Al Fresco – Five Artists Reveal Nature's Bounty" an exhibition of plein air artists, Mary Kelly, Juliana Kim, Alexandra Sharma, Bobsy Simes, and Barbara Spencer, who paint outside.  The show opens with an artist reception on Tuesday, May 11 from 5:00-7:00 p.m. at the Art League Gallery in Pineland Station, Hilton Head Island.  The exhibition runs through June 12. Join us for refreshments and meet the artists!
Mary Kelly has painted from childhood.  Every time she travels she takes her watercolors with her.  The paintings in this exhibition are primarily mountain views of the majestic Himalayas and were created in the north of India in and around the town of Dehra Dun.  On this trip she painted "Tibetan Temple" and "Banana Tree" in a friend's garden. The mats reflect the varied window patterns of the Indian houses. Kelly wishes to thank Sashi and Alexandra Sharma for their hospitality in India. Kelly also paints outdoors with the Apple Pie Painters, a local artist group; moreover she is an art instructor and a published author.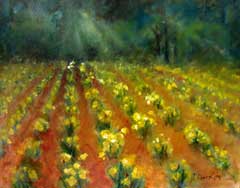 Juliana Kim has been reveling in the visual arts since childhood.  In particular, painting en plein air has enhanced her appreciation of her environs.  Although she uses her watercolors on her travels, when at a location for a longer duration, Juliana prefers working with the richness of oil paints. They offer pure color and the luminosity needed to capture light, form and texture.  Ever since she moved to Hilton Head Island Juliana has enjoyed painting Lowcountry landscapes al fresco, in an attempt to explore the essence of space and place. There is no shortage of treasures abounding here on which to meditate: tangerine sunsets, tidal spartina, ancient oaks, aviary fishing.  By painting outside she is able to use all the senses to embrace and become a part of her subject.
Alexandra Sharma, a watercolor and acrylic artist, explains: "I often find myself wondering why I have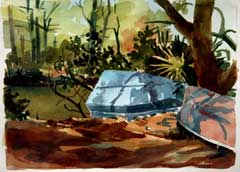 chosen a particular subject and a particular point of view.  I am drawn to a motif that reveals itself in small, often insignificant ways.  In my wanderings looking for a subject to paint, I am attracted to the hidden away things, the private moments, fragments of buildings, and ordinary objects viewed from an unusual point of view."  This is how Sharma transforms ordinary perspectives into extraordinary paintings.  She also is a print maker, sculptor, and art professor. Her work spans over twenty years and she is known for unique visual imagery in her paintings and prints and her ability to "capture the moment."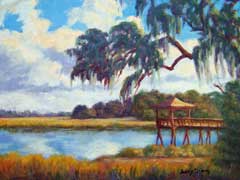 Bobsy Simes talks to us about her painting process and how she creates an oil painting.  "While working, I'm not conscious of technique, but spend a lot of time visualizing the finished work. There is a wealth of color harmony in Lowcountry scenes. My purpose is to communicate this quiet beauty to the viewer.  I paint en plein air to capture what the camera misses.  Southeastern scenes have a special quality of light and atmosphere that's unique.  Recession of the hazy distant marsh, color in the shadows, puffy afternoon clouds, all say to me "paint me."  Simes' work has an ethereal quality which is uniquely appealing.
For Barbara Spencer art has always been part of her life.  Spencer, an oil and acrylic painter, coined her own style that is distinguished by her special color palette.  Her impressionist brushwork is enlivened with a touch of Fauvism.  Spencer uses rich, undiluted hues of light color that are refreshing and have made her work instantly recognizable.  In rendering the Lowcountry coastal landscapes her favorite way is to paint her motifs en plein air.  She captures the light as the sun sets in the trees or the crisp clear air bathes the marshes.
All of the above artists have had one-person shows and have work in private collections nationwide. – Works of other Art League artists will also be in display.
The Art League of Hilton Head is a not-for-profit membership organization dedicated to promoting and supporting the visual arts through education, exhibitions and partnerships for the cultural enrichment of the community and its visitors. It operates a Gallery staffed by volunteers for the display and sale of artwork by its members.
The Gallery is open Monday-Saturday, 10:00 a.m. till 6:00 p.m.  For additional information contact the Gallery at 843-681-5060 or check www.artleaguehhi.org