Bill Mead wasn't always a painter of promiscuous produce. A navy brat who landed in the Lowcountry in 1969, Mead, a self-proclaimed "old hippie," started drawing as a teenager, and for years experimented with dark, disturbing images he calls "erotic surrealism."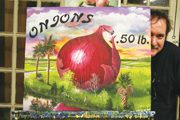 "I was basically driving myself nuts," he says. "I was drawn to the psychedelic and the psychological… the surrealists like Dali and Magritte. But like Nietzche once said, 'When I look into the abyss, the abyss looks into me,' and that abyss was about to swallow me alive."
Fortunately, Mead also enjoyed getting outside to paint landscapes. It seemed like a way of escaping the internal darkness he'd always struggled with… of defying the abyss.

"One day, I was babysitting a fruit and veggie stand for a friend of mine. We had a bunch of watermelons, but nobody was stopping, so I found an old piece of plywood and some paint lying around, and made sign that said, "Watermelons, $3.00" and painted a watermelon on it. It looked rather plain, so I added a little green grass and some sky, then I propped it against a tree by the side of the road. The next day, a woman who owned an antique store stopped and wanted to buy the sign. I think she gave me 10 bucks for it. I painted another one, and she bought that one, too. A month later, it seemed I couldn't paint these things fast enough. People were buying them before the paint was dry. I was having the time of my life."
People started telling Mead his signs were "fine art" and should be in a gallery.
"But I was simply having fun!" he says. "The minute I started looking at these paintings as 'serious art,' I got confused. I'm still confused, and I choose to stay that way."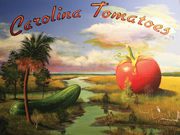 Reggie Przybysz of Art & Soul Gallery, where Mead's work eventually landed, isn't confused at all. "Bill's just an extraordinary talent. His technical accuracy coupled with his imagination and humor make him a favorite of collectors and art lovers of all kinds. Some respond to his color and whimsy, while others are intrigued by his juxtaposition of dark and light themes, the real and surreal. And they love his sense of humor, which often erupts in subtle ways, as it does in titles like 'Forces of Darkness w/ Cucumber'."
Some see Mead's recent paintings – of oddly anthropomorphic fruits and vegetables – as the natural offspring of his earlier work as a surrealist. He doesn't think it's that complicated.
"I don't really think of these paintings as surrealism, but rather simply the combining of still-life and landscape. I think I inadvertently hit on a combination of images that work well together. There's something very sensual, (if not downright erotic) about fruits and vegetables, and they have personalities. And Beaufort is a paradise for landscape painters… possibly the best place in the world to find classic landscapes. Put the two together, and, well, there it is."
Though he hasn't quite shaken off the dark imaginings of his youth, nor forgotten the abyss, Bill Mead is in a better emotional place, now, and his new work reflects that.
"The world can seem like a rotten place to live sometimes, but there is also great beauty. I like to think my art offers a small glimpse of that beauty and a place to rest our weary eyes."
He continues, "A Greek playwright once said, 'I used to be partial to tragedies, but experience has taught me that life is tragic enough without having to write about it."
Those who love Bill Mead's bright, buoyant, wonderfully witty produce paintings – and his fans are legion in these parts – are glad he's left tragedy behind in favor of divine comedy.
Bill Mead will be the featured artist at the 5th Annual LowCountry Habitat for Humanity Birdhouse Auction, where the original, commissioned painting on our cover will be sold in a live auction.
Other specialty items, including five celebrity birdhouses (designed and signed by Walter Cronkite, Hank Aaron, Jim Lovell, Pat Conroy and Cassandra King) will also be auctioned live, while hundreds of beautiful birdhouses, built and painted by local artisans, will be sold by silent auction. Live music will be provided by the Vic Varner Trio, and the party will be catered by Debbi Covington.
The Habitat Birdhouse Auction is Friday, April 25 at 6 pm at the St. Peter's Reception Hall on Lady's Island. Tickets are $25 in advance, $30 at the door, and $20 for active military. Call 522-3500.