Intarsia is a rare art form experts believe dates back to the 13th century. Jim Mallet's obsession with it dates back about 13 years.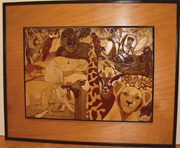 Intarsia is the craft of using varied shapes, sizes and species of wood fitted together to create an almost 3-D inlaid, mosaic-like picture. The word intarsia is probably derived from the Latin word "interserere," which means "to insert." The form is believed to have developed in 13th century Siena, Italy, by craftsmen who used inlays of ivory inserted in wood, as well as inlays of wood inserted into wall murals, table tops, and other furniture.
Today, intarsia is created by selecting different types of wood, using its natural grain patterns and colors (rather than dyes and stains) to create a multi-colored pattern. Each piece of wood is individually cut, shaped, and sanded before being fit together with other pieces like a jigsaw puzzle, and glued to a piece of plywood backing cut to the shape of the final product.
Jim Mallet, who lives in Sun City, spends about three hours a day in his workshop, sanding and carving. He sells some of his work – mostly to pay for supplies – but does this mostly because he loves it.
"This is just fun," he recently told Bluffton Today. "It's a hobby. Truthfully, I'm an egotist, but no one can criticize me because no one's doing anything like it."
He's right. And the fact that "no one's doing anything like it" makes intarsia – especially of this caliber – a rare fine for collectors.
Mallet gives many of his works to charities, raising money for children's and Shriners hospitals, and for the public TV station in his hometown of Milton, MS.
Here in the Lowcountry, Habitat for Humanity is the latest beneficiary of Mallet's largesse. This gorgeous African-themed wooden collage, which took Mallet four months to create, will be on display at the 5th Annual LowCountry Habitat Birdhouse Auction on April 25 at St. Peter's. The piece will be sold on eBay, but this is your chance to see it up close and personal! Proceeds will go to Habitat.
Call 522-3500 for more information.