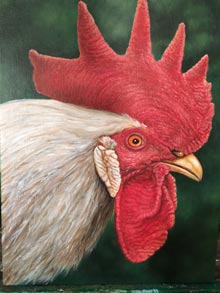 A new exhibit of paintings by Rebecca Davenport is hanging at the USCB Gallery and will run through the month of March. The exhibit is called "2×4 Footed," and consists of oil portraits of mostly farm animals.
            Why animals?
            "As human beings we see the world through our experience and our memory, forming how we see the world and wondering how the world sees us," says Rebecca. "Animals have no agenda and they don't really care how the world sees them. They are not self-conscious.
            "Growing up on a farm, surrounded by animals I passed into a stage of life that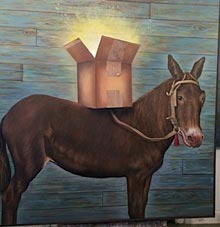 absolutely scared and changed me forever. I will never forget that day. I rode my pony to my special place and it was there that I realized what death was and I could never go back to being innocent. It was one of the most profound experiences in my life and I remember it vividly.
            "To me animals have that innocence and it may be that through them I can reclaim my own."