Steve Weeks is the next featured artist at the USCB Center for the Arts in downtown Beaufort. An oil painter, Steve's exhibit includes over 40 paintings of Lowcountry, Equine, Maine, and Italy. The exhibit opens on May 8th with a reception from 5:30-7:00 pm.
Lowcountry subjects and paintings developed during a Maine Artist-in Residence are exhibited with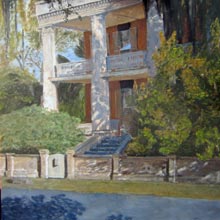 paintings generated during two weeks in a small village (pop. 800) on Lake Como. Some equine subjects inspired by the Lowcountry Hunt are also exhibited.
Painting has been a constant throughout Steve's life. Following graduation from University of Pennsylvania he studied at Pennsylvania Academy of Fine Art and University of the Arts. He lived in the Art Museum District and joined ME Gallery in the historic district of Philadelphia.
For the past eight years Steve has lived in Beaufort, where he enjoys abundant subject matter and soft coastal light. He paints in his open-to-the-public second floor studio at Atelier on Bay, 203 West Street, Beaufort, South Carolina in the restored Lipsitz Building.
Steve's work will be exhibited through early June at the USCB Center for the Arts on Carteret St. For more information, call 521-4145 or visit www.uscbcenterforthearts.com . A preview of Steve's work can be viewed at www.weeksart.com and he can be contacted at Email: geodyne@aol.com , phone 843/522-9772(h), 843/470-0266(studio)