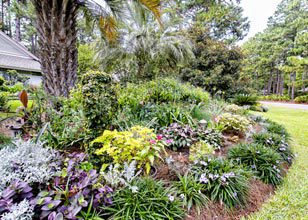 The 27th Annual All Saints Episcopal Church Garden Tour will be held on Saturday, May 17, 2014, from 10 a.m. to 4 p.m. The Garden Tour, which has become an island classic, has the theme of "A Potpourri of Gardens" and will feature eight of the finest gardens in the area.
The gardens on display this year are:
• "House of Palms: An Emergent Garden" in Moss Creek Plantation
• "Royal Sound Garden" in Port Royal Plantation
• "'Renee's Wish"" in Windmill Harbor
• "A Passion for Vegetables" in Port Royal Plantation
• "Southern Solace on the Intracoastal" in Hilton Head Plantation
• "Possibilities Aplenty" in Hilton Head Plantation
• "A Colorful Reflection" in Hilton Head Plantation
• "The Gardens of Hilton Head Island High School"
Tickets cost $35 and include a seated luncheon that will be served in the church's parish hall from 11 a.m. until 2 p.m. In addition, a "Flower Bower" Boutique, a "Heavenly Confections" Bake Sale, and Pino Gelato will be located in the parish hall. A variety of original works of art will also be available for sale. Vendors located on the church grounds will include: The Greenery Nursery, Jewelry by Lillith, and Jewelry by Caroline Alderman.
Other activities at the church will include organ music played by F. Steven Branyon, All Saints' Organist/Choirmaster, from 11:30 a.m. – 12 noon, and a lecture on "Deer Resistant Plants" by Sue Roderus, Master Gardener, Master Naturalist, employed by The Greenery, 12 noon – 1 p.m.
All proceeds from the event are donated to local charities in Beaufort and Jasper Counties. The 2012 funding grant recipients are: Hilton Head Island Backpack Buddies, Bluffton Backpack Buddies, Family Promise of Beaufort County, Hilton Head Island Safe Harbour, St. Stephen's UMC Outreach Food Bank (Jasper County), Thumbs Up, Inc.
Tickets will be available at the church on the day of the event, as well as at numerous retail outlets located on Hilton Head Island and in Bluffton. The church is located at 3001 Meeting Street, off of Main Street. For more information, please call 843-342-9727 or go to the Garden Tour's web site at allsaintsgardentour.wordpress.com
Karen Reuter, Chair of the 2014 All Saints Garden Tour Board, has pointed out, "This event provides the rare opportunity for everyone to see some of the premier gardens in our area, while at the same time helping our community respond to the challenges of hunger, homelessness, literacy, and aging."