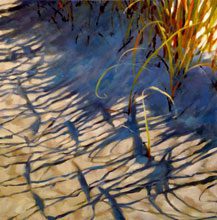 Most people in our area are aware of Charleston's prestigious Spoleto Festival, which begins during Memorial Day weekend each year and continues through the first part of June. Thousands of visitors flock into the city to experience productions of music, dance, drama, and visual arts. But not as many people are aware of the free, or nearly free, events which run concurrently and are collectively called Piccolo Spoleto. Among the free events is the Piccolo Spoleto Outdoor Art Festival, a 16-day showing of painting and photography in Marion Square.
The outdoor festival was begun in 1979 by Charleston's beloved then-mayor, Joe Riley, as a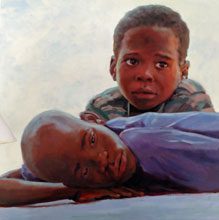 way to showcase the works of SC artists. Still restricted to artists from our state, the festival attracts roughly 75 oil painters, watercolorists, acrylic painters, printmakers, photographers, and mixed media artists.
Two local artists from Beaufort County will return this year to the outdoor festival. Kathy Crowther, featured in our last issue, is a Beaufort watercolorist whose paintings of flora and fauna with ink detailing have a distinct design flair. Her work can be seen online at www.kathycrowtherllc.com and at M Gallery in Charleston.
Also returning to the show is Mary Grayson Segars, an oil painter from Beaufort who has a working studio downtown at Atelier on Bay. Mary was last year's winner of the coveted Mayor's Award (Best in Show) at the festival. Her work can be seen online at marysegars.com and at Atelier on Bay (Beaufort), Maye River Gallery (Bluffton), Plum Goose (Charleston), and City Art Gallery (Greenville, NC).
Piccolo Spoleto Outdoor Art Exhibition is located in Marion Square on Calhoun St in downtown Charleston. The show runs from May 27-June 11. Hours are 10-5:00, Monday through Thursday, and 10-6:00, Friday-Sunday.