The Beaufort Art Association will feature the paintings of Murdayne Zehm, opening Tuesday, August 5, and continuing through Saturday, September 13. The opening reception for the artist will be Friday, August 8, from 5:30 to 7:30 pm.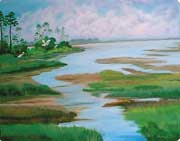 Murdayne Zehm came to live in Beaufort, South Carolina in 1973, along with her husband John and three children. Now she has lived here longer than in her native West Virginia (she was born and raised in the city of Parkersburg).
She is mostly a self-taught artist, having started in acrylics about twenty years ago. Murdayne began to pursue her interest in other art media after joining the Beaufort Art Association. The five-day workshops offered locally by the Beaufort Art Association have helped her immensely, especially in getting control over watercolor techniques. Her library of self-help instructional books has offered a wealth of information as well.

Murdayne has always been interested in the beauty of art. Even as a child her favorite class in school was art. "I am awed and inspired by the possibility of capturing the beauty of nature, wildlife, birds, seascapes and especially flowers through different media. The greatest contribution in being an artist is the art of giving, of being able to share the beauty of God's creation. I am very excited when tourists come to the BAA Gallery, see my artwork, desire to purchase it and take it back to their homes. I have been blessed in having been able to sell something almost every month at the Gallery for many months now, even if only a small print This will be my first time as the Featured Artist, because I never felt brave enough before. When I was asked to consider being the Featured Artist earlier this year, I thought seriously about it, and knowing that I already had several paintings at home, I decided to give it a try. After all, I am not getting any younger."
Murdayne enjoys painting Beaufort scenery and wildlife, especially the birds that inhabit the Lowcountry. One of her many hobbies, flower gardening has inspired her to paint their beauty and delicate petals in a variety of colors. Her husband has built many bluebird houses, and the Zehms now have four installed on their property. Most of them have bluebird families every year. Needless to say, bird watching has also become a beloved hobby.
The Beaufort Art Association Gallery, 1001 Bay Street, in the historic Elliott House, is open Monday through Saturday, 10 am to 5 pm. The works of 80 member artists are on display, including paintings, photographs, jewelry, glass, ceramics, and note cards. For more information please call 843-379-2222.