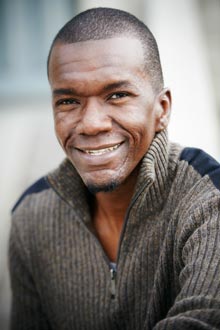 Break out the crystal, roses and paper because the USCB Lunch With Author Series is celebrating its 15th anniversary!
Believe it… the USCB Lunch With Author Series has been bringing New York Times bestselling authors, nationally awarded authors and introducing new authors to the Lowcountry for 15 years! This is a signature year and a very signature series as for the first time we have more men authors than women. We have a novel that has been made already into a TV series; an Edgar Award-winning crime novel; several Southern centered novels depicting the diversity of small town life; the true story of an autistic child written by his Pulitzer Prize-winning father, plus more and they are all page-turners.
            If you have watched the TV series, Resurrection, here's your opportunity to meet Jason Mott (above), the creator of the book, The Returned which inspired the series. On Thursday, October 2, 2014, Mott will open the USCB Lunch With Author Series at the Hampton Hall Clubhouse, Bluffton. The Returned tells the haunting story of the world turned upside down when the departed come back from death, bringing joy and agony to those they left behind. Individual stories are told as the communities try to understand what is happening.          At once disquieting and poignant, The Returned is a remarkable work of fiction that blends elements of many genres—from the dystopian thriller to the classic Southern novel. Jason Mott has written a wholly original story that is sure to spark debate now and for years to come. Jason Mott holds a B.A. in fiction and an M.F.A. in poetry, both from the University of North Carolina at Wilmington, and is the author of two poetry collections.            
            From South London, England, comes Edgar Award winning author, Alex Marwood , on Wednesday, November 19th at the Sea Pines Country Club. Marwood has written a tightly-paced thriller that will leave you questioning just how well you know your own neighbors and what they are doing behind closed doors.   Stephen King says, "Marwood's book, The Killer Next Door, is scary as hell with great characters."
Alex Marwood is the pseudonym of journalist Serena Mackesy who has worked extensively across the British Press. She lives in South London and has a whole set of romantic comedies under her real name. She says she has worked as a temporary secretary, been an English teacher, a lexicographer, a crossword editor, a door-to-door salesperson, a journalist and travel writer contributing columns and features, mainly to London's Independent.
The December 17th luncheon has grown with the addition of author Bernie Schein joining John Warley at the Belfair Country Club podium in Bluffton. Both authors' books were chosen by Pat Conroy, editor-at-large for the brand new Story River Books. Both books are based in small southern towns with all their idiosyncrasies which become characters in the books and as such manifest their own identity. Warley's A Southern Girl is the life story of an Asian child who comes to live in a very southern, insular, introspective Charleston as an adopted child. Schein's book, Famous All Over Town, relates how Jewish families were integrated in a typical southern small town in the latter half of the 1990's. Both books highlight characters you will love, some you will hate, sympathize with, laugh with, and definitely identify with. Bringing the books and their authors together on one podium should spark a far-ranging discussion of life in small southern towns from the 60s through the 90s.
Pulitzer Prize-winning journalist Ron Suskind is the featured author on Wednesday, January 14th at Dataw Club Carolina Room in Beaufort. His book, Life Animated: A Story of Sidekicks, Heroes, and Autism, tells the 20-year journey Ron, his wife, Cornelia and son Walt took, learning to accept, communicate, love, protect Owen, the son and brother who became autistic at three years old.
The "animated" in the book's title relates to Owen's mysterious ability to narrowly focus on Disney feature films, more than a dozen of them, and use them to bridge his autistic reality with everyone else's reality, to understand and express language and emotions that he couldn't otherwise.
On Thursday, February 12th, Carl T. Smith returns to the USCB Lunch With Author Series at Hampton Hall Clubhouse, Bluffton. Smith is one of the authors who helped us get started 15 years ago.  One of our first luncheons introduced Sam Larkin to readers in Lowcountry Boil. Four books later, Sam is still going strong in Mathew's Island. All four books have won an IPPY award for suspense, and all have been nominated for the Southern Independent Bookseller's "Book of the Year" award.   In the continuing journey of Sam Larkin's life, Carl has written a complex, soul-searching novel that goes beyond the exploration of good and evil.
Sea Pines Country Club will host the March 18th luncheon with North Carolina author Rose Senehi presenting her seventh novel in her Blue Ridge series, Dancing on Rocks. Her previous novel, Render Unto the Valley, was awarded a 2012 IPPY Gold Medal as the Best Fiction—Southeast and selected as a SIBA OKRA PICK.
Publishers Weekly describes Dancing on Rocks as "a bit of mystery, a touch of romance, a good deal of local history with vivid descriptions of dramatic scenery as a "stand-alone" novel even though it is the seventh book of a series." Senehi spent two years writing and researching the history of the North Carolina village of Chimney Rock so she could weave historically accurate details into this portrait of the iconic mountain community.
The final luncheon on Thursday, April 23rd brings a native Beaufortonian and USCB graduate to the podium at Dockside Restaurant in Port Royal. James Edwin McTeer II is the grandson of the late J. E. McTeer, whose 37 years as High Sheriff of the Lowcountry (and local witch doctor) served as inspiration for the winning novel of the 2014 South Carolina First Novel Competition. One of the judges said, "Minnow is a gorgeous fever-dream of a novel. It picked me up by the scruff of the neck and carried me along as powerfully as a novel by Pat Conroy or Toni Morrison."
Reservations are necessary for the USCB Lunch With Author Series luncheons and can be made with Jo Ann Kingsley, 843-521-4147 or email kingsley@uscb.edu. Reservations may be made for individual luncheons as well as for the whole series. The whole series consists of seven luncheons and the price is $270. Individual luncheons are $42 each. Each luncheon begins at noon and is held at a different venue:
            Jason Mott at Hampton Hall Clubhouse, Bluffton on Thursday. October 2, 2014
            Alex Marwood at Sea Pines Country Club, HHI on Wednesday, November 19, 2014
            John Warley and Bernie Schein at Belfair Clubhouse, Bluffton on Wednesday, December 17, 2014
            Ron Suskind at Dataw Club Carolina Room, Beaufort, on Wednesday, January 14, 2015
            Carl T. Smith at Hampton Hall Clubhouse, Bluffton, on Thursday, February 12, 2015
            Rose Senehi at Sea Pines Country Club, HHI on Wednesday, March 18, 2015
            James E. McTeer at Dockside Restaurant, Port Royal, on Thursday, April 23, 2015.