Beaufort Art Association is proud to present "Island Magic," an exhibit featuring five very accomplished painters, all originally from different parts of the US, who now call the Lowcountry home.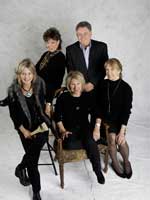 This exciting show – including works by Laura Bricker, Tricia Gardner, Rose Harrison, Eve Miller, and Mac Rogers – opened at BAA Gallery on Tuesday, March 30. You can meet the artists at an opening reception on Friday evening April 3, 5 – 8 pm. The exhibit will continue through Saturday, May 9.
Laura Bricker, a North Carolina native, believes that art appeals to most people at some level, and at some point in time. She began painting with the desire to translate onto canvas what she saw and felt – loving the thrill of color and light. Her interest in painting soon became a passion when she moved to Beaufort , and experienced the surrounding landscape and light.
Tricia Gardner, now retired from government, has traveled widely to study under numerous renowned artists. Her oil paintings – in dazzling colors and expressive textures and depicting shrimp boats, fishing shacks and stately homes – capture the beauty of the Lowcountry. She is now one of the area's most popular artists.
After living in many other places, Rose Harrison also calls the Lowcountry home. She has been a watercolorist for 30 years, combining her love of painting with a career in teaching and as a psychologist. She enjoys the challenge of capturing the essence of a scene, going on "plein air" expeditions, and teaching watercolor, and is one of the area's premier watercolorists.
Eve Miller – born in Belgium, always had a penchant for the arts. European galleries have always intrigued her on her travels. . After retiring from teaching French and Spanish, she settled in South Carolina. The amazing Lowcountry panoramas and brilliant lighting are frequent catalysts for her inspiration. Pastel is her favorite medium for capturing the cloud formations that pique her curiosity.
Mac Rogers, a South Carolina native, retired in 2004 after a 25-year career as pilot for Delta Air Lines in Atlanta. While living in Atlanta began studying painting, first with Ben Shute, founder of the Atlanta College of Art, and Tony Couch, fellow Delta pilot and watercolor artist, author and teacher. After retirement painting then became a pleasurable second career. His use of acrylics to depict familiar Lowcountry scenes has made him one of the area's most successful artists.
The Gallery also features new works by 70 member artists, including paintings, photographs, collages, jewelry, glass, ceramics, and art-to-wear. Gallery hours are 10am to 5 pm, Monday through Saturday. The Gallery is at 1001 Bay Street, in the historic Elliott House.