I'm certain that from time to time some of you have wondered just how we at The Lowcountry select the subject matter for this particular feature.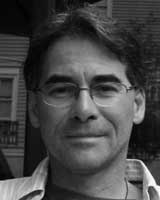 Well, I can tell you minutes of exhaustive research by our crack staff of professionals employing the latest state-of-the-art technology have managed to maintain the same high standards for The Backyard Tourist since we launched way back in the mid '50's. Indeed, the very same dartboard is still used today, although we've run through our share of maps (and a few pictures of various politicians). So, color us shocked to realize that when the dart hit Beaufort during this latest research session we were stunned to discover that nary a Backyard Tourist had featured our own town. Oh sure, we've done the tours and chronicled the galleries, restaurants and bars – mostly under different banners (Life Behind Bars, The Moveable Feast, etc.), but The Backyard Tourist has never actually focused on the Downtown Beaufort experience.
And then something strange happened. As the grey of this long, bleak winter gave way to blue skies, sunshine and blossoms we began to notice that more than just daffodils were blooming. In fact, it appears that even in this season of economic drought, seeds of progress and change have taken root in an unlikely place…
Hip, adjective
Inflected Form(s):
hip·per; hip·pest
1. a: having or showing awareness of or involvement in the newest developments or styles b: very fashionable; trendy 2. aware or appreciative of something.


In the January 21st Life Behind Bars column I wrote that "opening a bar and restaurant in this economy is like handing over your 401K to Bernard Madoff. Closing down a successful business and moving across the street to create something completely unique from the ground up seems absolutely certifiable."
But that's just what Anne Sergeant did. Along with husband Brad and her mom, Nancy Huber, She shuttered the Sea Island Wine and Gourmet on the corner of Carteret and Craven Streets and moved a few hundred feet uptown to open Wren Bistro Bar and Market. This high concept, sophisticated hybrid – equal parts restaurant, bar and gourmet market – is the beachhead for a new movement, a Carteret Renaissance, if you will. The vibe (get used to that word, it's going to pop up a lot) is a dramatic blend of ingredients and ideas that probably shouldn't work or fit but ultimately do. Indeed, what's happening up and down Carteret is a bit like the décor at Wren. As we pointed out in LBB, "there's plenty of exposed brick, steel, iron and tin mingling with marble, stone, wicker, wood and rope – yes, rope – and a splash of whimsy… Sitting at the bar in Wren feels as if you're in another city altogether, maybe adrift in Atlanta's Virginia Highlands."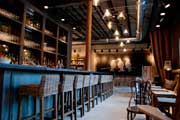 In other words, this is not the old Beaufort status quo. Absolutely not, says Anne. "It kind of has an urban edge, but maintains a feeling of comfort. It's a great place for friends to meet." Ah, there's another word bouncing around Carteret like an ersatz squash ball these days: urban. While we're at it let's click off a couple more: hip and young.
For Wren business has been booming from the moment the doors opened – and that is remarkable considering the current economy. But perhaps even more remarkable is that Wren appears to be prologue to what may develop into a much bigger story – the rebirth of what a colleague likes to call The Greater Carteret Street Corridor. And it's being driven (for the most part) by a decidedly young, hip and – yep – urban group of entrepreneurs who take pride in historic Beaufort and see a need and a want for something more, something that's been missing. And as The Lowcountry Publisher Jeff Evans points out, "the gentrification of Carteret is all happening organically. This isn't part of a project. It's not being imposed."
Gentrification, noun:
The process of renewal and rebuilding accompanying the influx of middle-class or affluent people into deteriorating areas.
"Carteret used to be The Strip back in the '80's," says David Watson. We're taking a break from the busy floor of Lime Lite, the salon he's just opened with business partner, Dawn Faivre at 612 Carteret. "It was always a dream of mine to be here. I'm living a dream."
How many people get to say that in a lifetime? The thirty-something Beaufort native practically radiates the new vibration buzzing along the street while the salon epitomizes it. He describes the vibe as coffee shop meets martini bar. "It's just kind of laid back with the music, complimentary beverages, the flat screen TV while you're waiting – just a friendly, open, fun place. But beyond all that, there's the talent. There's a lot of talent – a lot of years of talent in this salon. You've got the best of Beaufort in here." I'm not one to languish in salons (although I did live in Las Vegas for a while) but this one has – damn it – a laid back vibe I find really appealing. While I wait to speak to David I watch him finish a cut on a boy of about ten with a pile of hair like a small haystack. He makes a face as David goes to work with scissors and comb. Hair, like youth, is indeed wasted on the young. The haystack's mom watches, bemused while she sits out a color set, the Lime Lite's specialty.
The haystack begins to take shape. "I'm beginning to see a boy under there," observes Mom. "Does your head feel lighter?" He nods. His slightly older, freshly sheered brother peers around the partition. "Make it wild," he urges.
"You want it wild?" David asks.
"Yeah."
A moment later David's new customer-for-life is beaming with a freshly moussed Mohawk.
"Cool."
With Mom still stuck in the chair, David offers to help the youngsters cross Carteret toward home. The whole shop gets a big kick out of this. Suddenly I get a real sense of neighborhood.
David credits Wren with the renewed interest in Carteret, but says it all comes down to timing. In this case that involved a fateful dinner date with Watson, Faivre and their spouses. "We had drinks at Breakwater, came up with the name "Lime Lite" and three weeks later opened the doors." And while he's worked all over the world, he's proud of bringing something back to the community, particularly in tough times. "I'm a native. I grew up here in Beaufort. I love the fact that we've created ten jobs." He's already thinking of expanding his staff and sees a bright future on the Carteret Corridor.
"I think it's all pushing this way. It's the younger people starting the businesses," he says.
"But why here, and why now?"
His theory is simple: self-determination in a rough economy. "I know for myself I wouldn't want to be working for anybody else right now," he says.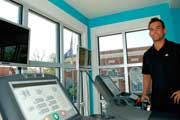 Jered and Deanna Kraszewski couldn't agree more. "We came here about a year ago," recalls Deanna. "I wanted to be a dance teacher and he wanted to be a trainer." Today Deanna has The Lowcountry School of Performing Arts while her ex-Marine husband has expanded his highly successful Lady's Island–based Lowcountry Health and Fitness to unique new digs on Carteret. During his time in the Corps, Jered ran The Body Composition Program. "They'd send me the fat marines. I'd make 'em skinny and send 'em back to their unit." He smiles, "I get to yell at people now and get paid more."
His newly opened City Fit sits above the smart and trendy City Java & News at 301 Carteret. These brand new independent businesses represent two pieces of a larger concept – one that could have the biggest impact on the Carteret renaissance to date: The City Loft Hotel.
Once the Lord Carteret Motel, and most recently the late, unlamented Red Carpet Inn, the once derelict property is undergoing a complete retrofit into Beaufort's "first upscale boutique hotel," according to the project's website. It's all the brainchild of local realtor and entrepreneur Matt McAlhaney whose wife, Laura, created City Java.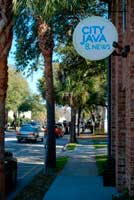 "The fact that this is our neighborhood means a lot to us, especially my husband because he is a born-and-raised Beaufortonian," explains Laura. City Java bills itself as "an espresso bar that balances urban flair with true coffee traditions." The ultra-modern contemporary feel comes from inspiration the McAlhaney's took from their travels, says Laura. "We are not bed and breakfast people. We prefer to stay where there's a vibe and an energy and in trying to create that we wanted to have the hotel anchored by a spot that would appeal to the traveler and the local alike." Having lived in what is arguably the hippest, most caffeine-obsessed youth culture in the Lower 48, I can tell you that City Java & News would pack 'em in down on Seattle's ultra-trendy South Lake Union neighborhood. Of course, there would be a lot more tattoos and piercings and everyone would be plugged into an iPod and dressed in black. But I digress…

"I believe City Loft, City Java & News, City Fit and Wren will prove that there is life beyond Bay Street," says Matt. His City Loft project has come online in stages with the coffee shop first, the gym most recently and the hotel scheduled for a June debut. All three components (a restaurant may come later) are designed to work in symbiotic unison once the hotel is up and running this summer. He came up with the concept after looking around downtown Beaufort and asking himself the question "if I were visiting Beaufort, where would I stay?" The short answer: "There was nothing that appealed to the urban vibe I would want while visiting a hip, thriving art community like Beaufort."
Matt began pursuing the property about four years ago. "I began making offers on the property to Nic Desai (the owner operator) and his brothers," he says. "I would visit Nic every three months or so with a number written on a piece of paper and every three months or so he would reject that number. One day he said, "call my brother"- I called his brother, Ash and I purchased the property in October of 2007." Meanwhile Laura was pretty sure her husband was delusional. "He took me through here and I thought, there's no way. Conceptually [City Loft] is a great idea, we just need to find another place to do it." She laughs about it now.
But Matt stuck to it with a passion, committed to his vision – a vision that had major obstacles to hurdle considering its location in the historic district. This put the project under the auspices of the Historic District Review Board – an organization not known for embracing young, hip and urban. "Originally, I planned to build another separate building on the lot in addition to the existing one," Matt explains. "The building had a modern flavor. Designing, presenting and having that building approved was an arduous task. There was a great deal of give and take. In the end I was appreciative of the input of the board and the building that was ultimately approved. My architect, Bill Chambers worked very hard on that building, unfortunately, the current economic times and projected construction costs dictated it was not a wise thing to build at the time. Who knows, maybe some day in the future, I will build it."
Meanwhile work continues on what will eventually evolve into the 23 room boutique hotel that Matt says "will have incredibly comfortable rooms with king beds, fine linens, club chairs, flat screen TVs in both the bathroom and bedroom. There are soaking tubs, glass showers, iPod lamps and wi-fi throughout." Wow, this really is hip. I don't even know what an iPod lamp is, but I'm pretty sure I want one, now. Matt's not through, though – not until he pitches the amenities. "The facility boasts the tastiest and the most tastefully designed coffee shop you will find anywhere. In addition, a small, well appointed fitness facility named City Fit with its steam showers, and state of the art equipment is available for guests and private membership use."
But there's still the question of why Carteret suddenly seems to be the choice of the young and hip. Why the vibe and why here, why now (particularly in these economic times)?
"Beaufort has some driven, young entrepreneurs who believe their vision for the area has great prospects for the here and now as well as the long term," explains Matt. "My wife, Laura, has created a really "cool/ hot" coffee spot – people appear to be willing to buy coffee in both the good and bad times. Lowcountry Health and Fitness's Jered Kraszewski who leases and operates City Fit is a prime example. He's thriving in an otherwise down time. Why? Because people need him to avoid "letting themselves go" in the down cycle. Annie Sergeant at Wren has also moved forward boldly in the face of this down cycle and by all accounts is doing very well."
Jered Kreszewski takes it from another angle. "I think that we've kind of created a bubble," he says. "We're all small business owners trying to support each other. In my gym on Lady's Island, the majority of my clients own their own businesses and I frequent their businesses and we just kind of go full circle." He sees the same thing happening on Carteret – a circle of support that will extend beyond the new arrivals to include their more established neighbors as well. More people on the street means more money changing hands in tough times. The City Loft's future clientele will not only enjoy unprecedented access to the modern enigma of an Ipod lamp in the Historic District, but they will also browse the Best of Everything Boutique, load up on the Chocolate Tree's world class confections and follow the bubbles into Janet Mark's Carolina Stamper. The McAlhaneys also see this spilling over onto Port Republic Street and beyond. They've requested a cross walk at the intersection of Port Republic and Carteret to help open up the area to pedestrian traffic and hopefully make crossing the street a less lethal proposition.

"I love my neighborhood," says Laura. "I love that this is what I get to do and where I live and work."
She goes back to work while I sip a cup of rich French roast on a corner stool in her shop. A few feet beyond the floor-to-ceiling window Carteret Street is a rushing river of steel and glass. Across the street the lunch crowd streams in and out of Wren. A block in the opposite direction the old Sea Island Wine and Gourmet building sits vacant, although somehow I get the feeling it won't be empty for long.