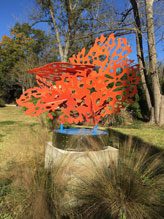 Whether you're an art enthusiast, a nature lover, or you're simply curious to see large sculptures creatively placed throughout a stunning, natural Lowcountry setting, the 2018 Public Art Exhibition on Hilton Head Island offers everyone a chance to get outside, enjoy nature and soak in the beauty of art.  
The biennial exhibition, hosted by the Public Art Fund of Community Foundation of the Lowcountry, features 20 large scale sculptures created by artists from around the country.  The pieces – some as tall as 20 feet – will be installed among marshes, camellia gardens and in open fields throughout Coastal Discovery Museum at Honey Horn. And this year, for something ne
w, one of the 20 pieces will be installed at the Hilton Head Airport.
The exhibition officially opens on October 1 (although the installation will be completed by September 28) and runs through January 31, 2019. Artists will begin what can be an arduous and sometimes precarious installation process on September 26. "Installing some of the larger pieces requires heavy machinery," says Jean Heyduck, vice president for marketing and communications at Community Foundation of the Lowcountry, and a staff liaison to the Public Art Fund. "It can be a little tricky to carefully maneuver a bulky, 600 pound piece of art with a crane, while ensuring we don't do any damage to a 200-year-old live oak or a camellia bush. But once installation is complete, the final outcome will take your breath away."
Artists in this year's exhibition hail from as far away as Montana and as close as Hilton Head Island. Casey Schachner, from Lolo, Mont., is traveling the farthest but, ironically, may have the most intimate history with the Lowcountry: She grew up on Hilton Head Island and attended public schools here. Two local artists, Kevin Eichner along with Mark Larkin – whose piece "Sandy Roads" was included in the 2013 Public Art Exhibition on Hilton Head Island and was permanently installed at Coligny Beach Park in April – will also have pieces in the show. The remaining 17 artists will travel from Texas, Colorado, Illinois and various states up and down the East Coast. 
The Public Art Fund was established in 2006 to serve as a procurer of public art on Hilton Head Island. In 2010 the fund commissioned its first piece, "Charles Fraser," a bronze statue of island icon Charles Fraser walking with an alligator. The piece was donated to the Town of Hilton Head Island and installed in Compass Rose Park. In 2011 the Public Art Fund hosted the first exhibition, which has been held every other year except 2017, when Hurricane Matthew caused a one-year postponement.
One piece from each exhibition is selected by a jury of local artists, community leaders and a curatorial consultant. That piece is then purchased by the Public Art Fund and donated to the town for their growing collection. To date, the island's permanent collection totals 10 pieces that can be found as far south as Coligny Beach Park and as far north as Highway 278 by Carolyn's Nursery.
Michael Marks, chair of the Public Art Fund Advisory Committee, says that the exhibition is about more than just adding to a collection. "Public art is called public art because it's part of the fabric of our community," he says. "We hope people will come out and experience the exhibition while it's at Honey Horn. But we also want people to enjoy all the pieces that have been permanently installed around the island."
Marks says there are ways, other than simply attending the exhibition, that the community can get involved with public art. One way is to vote for their favorite piece as part of the "People's Choice Awards." Voting can be done online, through Facebook and with paper ballots that can be picked up at the Discovery House at Coastal Discovery Museum. The artists for top three vote-getting sculptures receive a cash award.
Once the exhibition starts, people will also be able to enter a Facebook contest. By posting a photo of themselves with their favorite piece to the Community Foundation's Facebook page, they'll automatically be entered into a drawing. One photo will be randomly selected and that person can select a local arts organization which will receive a grant of $5,000 from Community Foundation of the Lowcountry. 
"To get school-aged children involved, we work closely with Island School Council for the Arts to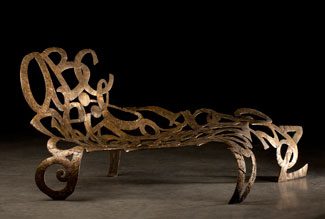 incorporate the exhibition into local schools' curriculum," Marks says. "We include high school students in the installation process, we arrange opportunities for participating artists to provide hands-on learning opportunities in schools, and classes of students come out to the exhibition on field trips."
Additionally, several local communities have scheduled lectures with the visiting artists. Sarah Peters, whose piece "Botanical Fainting Garden" will be found in the camellia garden at Honey Horn during the exhibition, will be giving a lecture at Palmetto Bluff before she installs her piece. Spring Island has scheduled a lecture by artist Elizabeth Akamatsu once she has completed installation at Honey Horn.
The exhibition is free to the public and open during regular museum hours. Visitors can download the Otocast app to their mobile device, see a map of the exhibition and listen to recordings of the artists sharing their inspiration while they discuss their individual pieces. And for those wanting a deeper dive, docent-led tours are available for the length of the exhibition for a small fee on Fridays at 1 p.m.
IF YOU GO
The 2018 Public Art Exhibition on Hilton Head Island runs from October 1, 2018 – January 31, 2019.
19 large-scale sculptures will be installed at Coastal Discovery Museum at Honey Horn (70 Honey Horn Drive); one sculpture will be installed at Hilton Head Regional Airport (120 Beach City Road).
Hours of the exhibition coincide with the hours at Coastal Discovery Museum and Hilton Head Regional Airport.
Admission is free.
Docent-led tours are available at Coastal Discovery Museum on Fridays, starting at 1 p.m. Cost for adults is $10; children ages 5 – 12 is $5. Call ahead to schedule.
After October 1, voting for "People's Choice Award" can be done on paper at the exhibition, online at http://hhipublicart.org or by going to Community Foundation of the Lowcountry's Facebook page. Voting will take place through December.
You can download the Otocast app to see a map and hear each artist talk about their sculpture.
For more information, visit our Public Art Exhibition on Hilton Head Island website at http://hhipublicart.org or contact Jean Heyduck at Community Foundation of the Lowcountry at jheyduck@cf-lowcountry.org or 843.681.9100