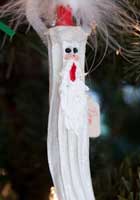 Christmas shopping just got easier and more exciting at the Beaufort Art Association Gallery, located in the historic George Elliott House at 1001 Bay St in Beaufort. The "Holiday Show & Boutique" offers affordable, artistic and unique gifts created by BAA artists. While browsing the boutique, you will also enjoy the original art of more than 70 artists displayed in grand style in this historic home. The newly released book of spectacular black and white photography by Sandy Dimke entitled "Hands – at work and at play in the Lowcountry of South Carolina" is also featured.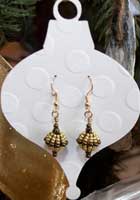 The Boutique includes many handcrafted items to be treasured for years to come. Among featured items are hand-turned wooden bowls, gorgeous pottery, bright and colorful hand-knitted purses, oyster shell tree angels, a 2 ft tall Father Christmas, miniature paintings, original jewelry, one-of-a-kind silk scarves and an illustrated children's book. Original tree ornaments include hand-painted okra Santas – and is there anything that says "Christmas in the South" better than that? Select a gift that is not only unique, but created with a love of nature, art and craftsmanship.
The Holiday Show and Boutique will continue through Jan. 8, 2011. The Beaufort Art Association Gallery in the George Elliott House is on the corner of Bay & Charles Streets. Hours are Monday – Saturday 10:00 am – 5:00 p.m.