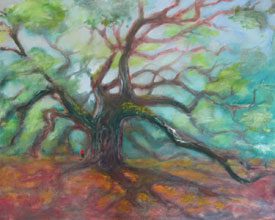 Extensive travels have given Juliana Kim ample material to investigate the essence of space and place. When she moved from Boston to Hilton Head Island, she embraced her new environment by painting landscapes "en plein air." For this exhibition, she has taken 3 elements and explored her personal journey through them. "Water" has always been a concern, ecologically and aesthetically. "Air," with its dance of sunlight, atmosphere and color, has enthralled her. Earth-bound, the majestic Live Oak straddles both, reaching out for endurance and connection.
Kim's education includes extensive art history (Vassar) and studio art (School of the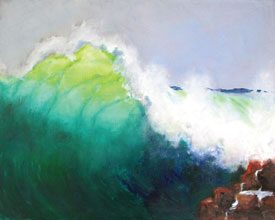 Museum of Fine Arts, Boston). She has had 20 solo exhibits and more than 45 group exhibits. Kim is an Exhibiting Artist at Art League of Hilton Head and has been on its Board for 8 years. She is a member of SoBA, SC Watermedia Society and Lowcountry Plein Air Society. For more: www.julianakimfinearts.com
 Elemental, Artwork by Julian Kim, runs October 11 – November 5 at the Art League of Hilton Head Gallery, with an Opening Reception on Thursday, October 13 from 5 – 7 pm. Enjoy refreshments and meet the artist. This event is free and open to the public. You can also meet Ms. Kim and learn more about her artworks by attending one of her Gallery Talks on Tuesday 10/18 & 10/25 from 11am – 1pm, and on Saturday 10/15 & 10/22 from 2 – 4pm.  Art League of Hilton Head Gallery located mid-island, inside Arts Center of Coastal Carolina, 14 Shelter Cove Lane, Hilton Head Island. Call 843.681.5060 or visit www.artleaguehhi.org for more information.