Nancy Mitchell: Music Wafted Through the Trees will be the featured exhibit at Art League Gallery from August 29 – September 23. The Artist'€™s Reception on Wednesday, September 7 from 5-7 pm will includelive music by Mitchell's professional musician family members. This event is free and open to the public.
Nancy Mitchell, an Art League exhibitor for 25 years, returns to Art League Gallery this September. Mitchell's clay sculpture and paintings will create an ode to musicians, as she is a proud wife and mother of local musicians. Mitchell proclaims "€œbeing the lone artist in a family of musicians, someone has to listen!"

Nancy Mitchell has been painting and sculpting on Hilton Head for 30 years. An inspiring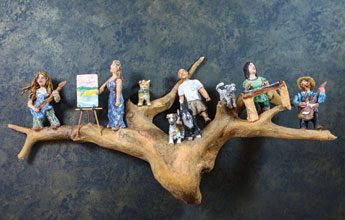 location with an appreciation for art and music, Mitchell describes. She taught at Art League Academy for 3 years and still gives private lessons. Mitchell accepts commissions for her sculptures of families. She calls these pieces €œFamily Trees.

Mitchell will give an Artist Demonstration on Thursday, August 31 from Noon -€" 2 pm. The topic is €œSculpture: From Concept to Completion.€ She'€™ll begin with a conceptual sketch. This is the basis for her figures which are sculpted in clay. The final figures are fired, hand painted using acrylics and mounted on a prepared setting.
Art League of Hilton Head Gallery is located mid-island, inside Arts Center of Coastal Carolina, 14 Shelter Cove Lane, Hilton Head Island, 843-681-5060, www.artleaguehhi.org