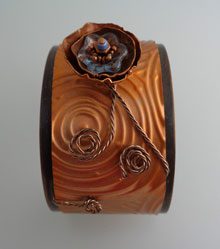 "€œElemental Flair"€ is the name of the upcoming Beaufort Art Association (BAA) show, featuring the jewelry-making skills of local artists Barbara Miller and Jan Glover. The show opens October 29th and runs through January 9th.
An opening reception with the artists will be held on Friday, November 3rd, from 5 to 7:30 pm at the BAA Gallery at 913 Bay Street in Beaufort. The public is invited to join in for a fabulous evening of friends, food and handcrafted art. Also on exhibit will be the artwork of other local artists who are members of the Gallery.
Barbara Miller'€™s art merges her life-long love of fiber knitting with her admiration for unusual
handmade jewelry. Having grown up knitting since she was ten, Miller has designed everything from scarves and sweaters to coats and hats. According to the artist, wire knitting uses the same techniques as fiber knitting, substituting wire for yarn and embellishing it with beads to produce a one-of-a-kind piece of wearable art. Most of her designs are collar necklaces or cuff bracelets.
Over the years, Miller has perfected her art so that it ages well. She uses stainless steel for most of her pieces because it is strong, doesn't tarnish and has
minimal nickel content. If she wants a yellow metal, she uses 14/20 gold-filled wire; the outer 20% is 14 karat gold, so it doesn't tarnish.
"My favorite beading materials include semi-precious gemstones, fresh water pearls with unusual textures and shapes, handmade glass beads, coral and shell," she says. I have antique gold-filled pieces that have aged extremely well."
Barbara Miller'€™s work has been featured in art galleries and clothing designer shops in Asheville, NC, Taos, NM, and Beaufort, Charleston, Hilton Head, Sullivan's Island, and John'€™s Island In SC. Currently, it can be found in shops and galleries in Beaufort and Hilton Head, and Greensboro, NC.
Jan Glover says that an eye condition as a young girl led her to begin making jewelry. She had to wear an eye patch and do regular hand-eye coordination therapy, which involved working on a bead loom with seed beads daily. Once she started down that path, she says her journey continues full steam -€" and is still therapeutic all these decades later.
"My next jewelry making encounter was in 1992 when I stumbled upon my first bead and jewelry supply shop,"€ she says. "With the owner'€™s help, I designed my first piece -€" a necklace -€" and have continued to design and handcraft jewelry ever since."
Glover says her interests and range of techniques have varied over time. Her techniques include form folding copper metal, usually embossed or textured, with applied patina and acrylic spray to protect the wearer and the piece's finish. Other techniques include wire wrapping and stringing. She often uses Fair Trade Kazuri beads, which are handmade in Kenya by Swahili women.
"In addition to earning salaries four times the average for that region,
"€ Glover says, "€œthese women receive healthcare and child care as part of their employment. When a person purchases Kazuri jewelry, they are helping care for these women and their families."
Jan goes a step further by giving a portion of the sales of her Kazuri bead jewelry to Water Mission, an organization that provides clean water to underserved communities.
"They have a water site in Kenya, and perhaps the same women who make my Kazuri beads may be reaping the benefits of this, as well,"€ she says. "€œI hope I can brighten people's worlds with my jewelry, where color, style and distinction are united."€
Glover'€™s work has been shown in the South Carolina Artisans Center, and the Beaufort Art Association Gallery. A broader selection of her line of jewelry can be seen at www.janglover.com. She also holds twice yearly trunk shows in Beaufort.
Chartered in 1957, the Beaufort Art Association is a tax-exempt membership organization. Currently, about 175 local artists belong, with about 65 of them exhibiting their work in the Gallery. To find out more, go to www.beaufortartassociation.com, or call (843-521-4444.