… and get your art critic ON, at the ACBC's Critique Drop-Ins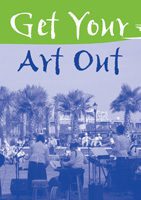 Over twenty-five artists attended the first Critique Drop-in of the Get Your Art Out program, presented by the Arts Council of Beaufort County. The drop-ins are facilitated by Deanna Bowdish, who is a painter, a gallerist, and the president of the board of ACBC. Deanna also knows how to talk about art, and how to get artists talking about their artwork. Here's a retrospective of that historic first drop-in, with no names mentioned to protect the delicate nature of a critique session.
Deanna Bowdish started the two and half hour session by talking about process. She presented her own new series of paintings, which are watercolor-paper painted with acrylics, which she then cut up, re-arranged, and glued to fiberboard and sealed with a two-part polymer resin, into 12 X12-inch tiles. "I love the idea of taking art off the wall and walking on it on the floor."
"My eyes just go all over it," was one of the enthusiastic responses.
A glass artist presented her work. She has been working on fused glass pieces for a year, after years of stained glass work. "My wrists got tired of the heavy stained glass," she explained. Her fused glass piece was a rectangle smaller than a shoe box, and as thick as a Super-Sharpie. Within the clear glass, springtime flower rippled.
"I'd rather do this, work is just to pay the bills," the glass artist commented. "It's fired at 1500 degrees in my kiln. The layers of glass provide the relief."
Many of the participants work with paint, so they had lots of questions about how— how is glass a material for making art? The glassmaker said she'd bring some of her raw materials to the next meeting.
A weaver stood to present her artwork— which was not woven. This weaver has a new baby, and her loom is put away for now. "So, a couple of weeks ago I couldn't stand it anymore, I had to make something," she said. "I started thinking about patterns, and I cut out this bear. For these shapes, I used natural Japanese paper here…" She had surrounded an iconic brown bear with traditional quilting symbols, creating a striking and graphical piece.
An environmentalist painter of jellyfish explained how she composes on the canvas: "I work with tilt a lot, because the earth is at a 23 and a half degree tilt, which creates the seasons."
An artist presented her series of canyon collages with cobalt blue skies, and discussion centered on placement of one stray scrap of thin red. Notecards were available, and many additional comments were passed to the artists who shared.
An established painter had decided to try abstract painting, and she chose to work with the planes of the Arsenal. She took a close-up approach, which was very effective, and she captured the worn yellow of the 1700s building very well too.
A retired automotive designer with a biblical name brought in a painting that was forty years old and still promising. He'd had a fascinating career of art and technology, "I've been sketching since I was six years old." In the large-format still life that he had chosen to share, was a painting on the wall behind the table— "it looks like a window view in classic medieval European"; "no, the foreground would be better off without it"; "without the painting within a painting, the whole piece would be too flat."
Another collagist presented her work— three collages of great individuality and no flowers, explaining that "when I was little my mother used to dress me in little dresses, but I hated the flowers on them."
An ambidextrous and well-selling artist presented a painting which she described as a departure from all her other work. "I am bored with landscapes and wildlifes. I'm not a whimsical person, so my attempt to be playful is these fireflies dancing with fairies. My goal is to break loose from my type-A painting. I have a photographic memory, so I remember everything I see and virtually nothing I hear. I wish I had learned to paint outside the lines."
The Get Your Art Out Critique Drop In served its purpose: artists gathered, questioned, and speculated. Now for the hard part, alone in their respective studios, creating some cohesive, searching, and inspired art.
Get Your Art Out "Critique Drop In"
Every 2nd Monday, 6 – 8pm, Free
at the Arts Council of Beaufort County, 1111 Boundary Street in Beaufort.
Get Your Art Out ~ Visual Artists Track
February 22-March 26th, FREE
Please RSVP to Colleen @ 379-2787
Learn the tools & techniques you need to work with galleries and get your art out there in exhibitions: beginning with artist Hank Herring on Friday, February 22nd, 6-8pm, "Developing Your Artist Portfolio: Matting & Framing". Wednesday, March 12th, 6-8pm, Developing Your Artist Portfolio: Digital Photography
Wednesday March 26th, 6-8pm, Developing Your Artist Portfolio: Artist Statement.
Get Your Art Out ~ Writers Track
March 19-April 30th, FREE
Please RSVP to Colleen @ 379-2787
Learn the tools & techniques you need to get published or self-publish. Iodine Literary Projects is a partner in this series: Tools for the emerging writer with Carl T. Smith; Spoken Word Workshop; Editing Techniques; Your Marketing Plan.
February 26- ART206, Osher Lifelong learning Institute
at The Arts Council of Beaufort County, 1111 Boundary Street, 1pm- 2:30
Join J.W. Rone, Executive Director and Jenny Rone, Development Director, of the Arts Council of Beaufort County for a fascinating overview of the Lowcountry arts scene. Learn about arts groups and initiatives and what will be happening in the arts in 2008-09. Learn how you can become involved with the arts and how to join such groups as Beaufort Performing Arts, Beaufort Art Association, and the Arts Council of Beaufort County, among others. Call USCB at 521-4113 to register.