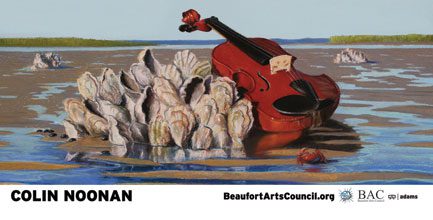 BAC announces 2
nd
 Annual ArtPop Beaufort, seeks artwork submissions for billboards
The Beaufort Arts Council announces the 2nd Annual ArtPop Beaufort competition.  ArtPop Beaufort is a partnership between Adams Outdoor Advertising, Beaufort Arts Council and the local art community to provide an opportunity like no other!
            The mission of ArtPop is to promote local artists work through available media space.  Art + Public Outdoor Project = ArtPop, and it is a nationwide program made possible through the 501(c)3 ArtPop Organization and Adam's Outdoor Advertising. For additional information on the full program, please see www.ArtPopStreetGallery.com.
            ArtPop Beaufort will shine the spotlight on talented local artists in the Beaufort area by displaying their artwork on Adams Outdoor Advertising 10'6" x  22'9" billboards that will be seen by thousands of local residents as well all that visit this region.  Artists that reside in Beaufort, Jasper, Hampton, and Colleton counties are invited to submit entries for consideration.   
            ArtPop Beaufort will feature the work of 10 artists rotating through at least 5 Adams' billboards for approximately one year beginning in February of 2016.  (See, here, some of last year's winners.) Each billboard will include the artist's work along with his or her name. A page on the Beaufort Arts Council website will feature the winning artists as well as having links to each artist's website if they so desire.  
            A jury will be responsible for judging this open artwork competition and selecting the 10 entries to be reproduced for display. Submissions are now being accepted for the competition.
            BAC Board Member and Chairman for the ArtPop Beaufort Program Marc Hayward says, "We were excited to embark on this program last year and going into the second year, I am hopeful it will be even more successful. We had 73 submissions last year and we're hoping to top that this year. It's a truly unique opportunity for artists to showcase their work on a grand scale and a wonderful opportunity for our community to rally behind and support displays of public art."
            Please visit the BAC website at www.beaufortartscouncil.org for full details, program eligibility, and entry instructions.  The ArtPop Beaufort Program directly falls under the Beaufort Arts Council's mission to expand art in the daily lives of residents and visitors through providing opportunities for artists to exhibit and create art.