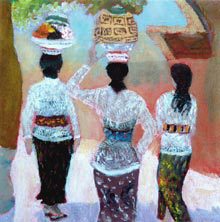 The Society of Bluffton Artists presents "East of Suez," a collection of very special paintings by Betty Hintz, on display from July 7 through August 2, at the SOBA Gallery.
ÂÂ 
One of the seven founding members of SOBA, Hintz has been contributing to the local art scene for over 20 years. As she puts it she "fiddled around with art my whole life but never really in a serious way until I moved to Bluffton in 1986 and took the first of many pastel classes with wonderful artist and teacher, Joyce Nagle." Hintz says, "then I finally knuckled down and painted."
The work of "East of Suez" is dedicated to Southeast Asia, mostly scenes from Bali. The paintings,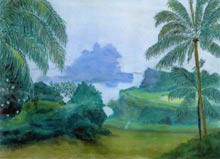 mainly in acrylic, are meant to evoke everyday life but have a dream-like quality that captivate the viewer. Hintz traveled with her husband who worked in Goodyear's Crude Rubber Division his whole career, which took them out of the United States for over 33 years. They moved to Sumatra in western Indonesia in 1951 with "two babies and high hopes" and she ended up being completely enchanted. She travels back there whenever possible, as do her four children, and in fact is planning a trip to Bali as she finishes preparing for this show!
A reception to meet the artist will be held on July 13 from 3 – 5 pm at the gallery on the corner of Church and Calhoun streets in Old Town Bluffton. Call 757-6586 or visit sobagallery.com for more information.