Skills as thick as pluff mud, inspiration as snaggly as Spanish moss…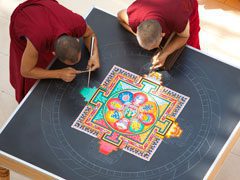 "I love working in the community and for the community. The arts are such an important part of our lives, in our society. Serving as a board member gives me the opportunity to advocate for them at larger scale," said Maridolores Valentin, who just joined the board of the Arts Council of Beaufort County, along with Helen Roper, Connie Gardner, and Nat Hughs. Mari works as the outreach coordinator for Beaufort Jasper Hampton Comprehensive Health Services. "As an educator, I promoted the arts in every aspect of Spanish teaching. Now as a board member I can promote the arts by helping make important decisions. The arts in Beaufort show such a spectrum of forms, colors and diversity. We have great artists and I love their work! Let's keep on working hard making changes and showing our Lowcountry arts to the whole world."
Arts Council staff is on-track for this mission of showing Beaufort County arts to the world, through a syncretic process of workspace for artists, accessibility to audiences, collectors, and the people who are pondering an artform, and all the travelers who want to visit Beaufort County for the arts. In other words— hands-on workshops, 4th Friday ARTjams, and MarshClasses!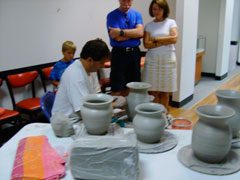 Thursdays are for ceramics at ARTworks: hand-building and wheel-thrown sessions with Trevor "Power Wheel" Trevor (if you attended the August ARTjam, you saw how quickly he wheels pots into being!) begin on September 24, running through November 5th.
This October, the ARTworks gallery will host a show from the Photography Club of Beaufort, as well as two great classes. A wildlife photography class, from October 15th through November 5th will be lead by Eric "Fieldtrip" Horan, an award-winning photographer whose work has been on many covers, including Smithsonian Magazine. "We'll explore how to approach your field work and make a study of your subjects whether it is landscapes or the elusive Belted Kingfisher or Mink. We will be in the classroom for five weeks with weekly assignments and have a field trip instead of class on the last week," Eric explained.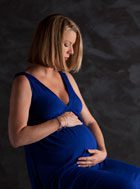 Paul "Megapixel" Nurnberg is a photography expert whose personal and professional work encompasses architecture, editorial photography, and capturing people at doing what they do best— living. In "Demystifying your digital camera & taking better pictures" he helps people who are just starting or are already practicing amateurs. "We'll start by exploring the various settings on your cameras and lenses, then move on to basic techniques of controlling light, focus, and composition," Paul explained. "We'll finish by demonstrating ways to improve your photos in the popular areas of outdoor, people, and travel/vacation photography." Most of the class applies to film cameras as well; the four sessions begin October 19th, and look for his work in the ARTworks gallery, October 2-30 too.
Registration is handled by the artists, and all the details, including cost and contact info, are listed at beaufortcountyarts.com.
4th Friday ARTjamz at ARTworks are hands-on art experiences as well— $5 at the door to hang out, enjoy free live music, create a design for the ARTworks t-shirt competition, and choose from a menu of ready-to-go art experiences and experiments, and even some artisan-baked breads. The September ARTjam (on Friday the 25th, 6:30pm) will also include a MarshClass reception from the Beaufort Inn, to welcome all the people who'd like to meet the master artist-instructors before the series begins October 12th. A digital MarshClass brochure is online at www.beaufortcountyarts.com.
"Each three-day master class is an intensive study," explained Trevor Foster, who has shaped clay for twenty years, with credentials in ceramic chemistry, teaching, and artist co-op administration. "My inspiration came from observations of my surroundings and studies of cultures from around the world. In my MarshClasses, we will combine wheel throwing or hand-building techniques with Lowcountry nature, to produce art work that represents each participant's view of their surroundings." Eric Horan continues the series with another Wildlife Photography class; Kim Keats (her middle name should be "On A Roll" so more about her later, but watch for her November gallery show with Joseph Legree at ARTworks— fantastic!) will immerse artist-students in Basketry from Tradition to Innovation, November 2-4; the amazing, glossy beauty of making lampwork beads will be guided by Curtis Cecil November 9-11.
One of the artists who helped solidify the MarshClass series offers her class, 'Portrait & Figure Drawing and Painting: A Painterly Approach' October 21-23. "It's not a portrait class about getting features correct," Linda explained. "This experience is more about seeing connected shadow and shapes, and negative and positive spaces."
Seeing the connections is what ARTworks is all about. Welcome aboard, Mari, Helen, Connie, and Nat.