Earth Inspired 2009, a juried art show to benefit the Coastal Conservation League showcasing regional artists of all-media, is on exhibit at the USCB Gallery through August 14th.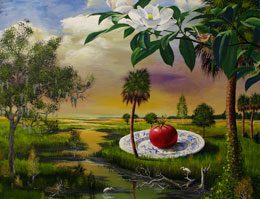 Don't miss this wonderful exhibit celebrating our natural environment and our local art community. As residents of the Lowcountry, we all benefit from the beauty and resources of this environment. Local artists continue to gain inspiration from the spectacular landscape. Through Earth Inspired 2009, artists are showing their support for an organization that is making great strides to conserve this unique region.
The Coastal Conservation League works to protect the natural environment of the Lowcountry coastal plain and to enhance the quality of life for our communities by working with individuals, businesses, and government to ensure balanced solutions.

This art show has been made possible by generous donations from local businesses. The League would like to thank the following businesses for their support and sponsorship: The Olde Town Coffeehaus, Grayco Hardware, Murr's Printing, Buf's, and City Java and News.