MarshClasses are professional-level master art classes for people who want to explore an artform intensively with a recognized artist while soaking in the lush inspirations of the South Carolina Lowcountry.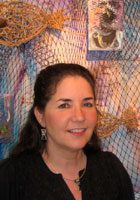 Premiering in October & November 2009 specifically to introduce visitors (and locals too) to the year-round pleasures of Lowcountry living, MarshClasses are a significant step for Beaufort's creative class, bringing together the talents of emerging, visiting, and master artists with the beautifying forces of nature: dramatic Spanish moss and graceful egrets in the view finders of photographers; the salt breezes, crackles, and bubblings of the marsh informing the potters; and the entrancing views of marsh grass surrounding distant palmetto-studded islands inspiring basket-makers. Lodging packages, with partners the Inn at Town Center and the Beaufort Inn, are available, as well as additional arts-related, historical & eco-tourism activities. A digital brochure is online at www.beaufortcountyarts.com .
"Each three-day master class is an intensive study," explained Trevor Foster, a potter for twenty years with credentials in ceramic chemistry, teaching, and artist co-op administration. "My inspiration came from observations of my surroundings and studies of cultures from around the world. In my MarshClasses, we will combine wheel throwing or hand-building techniques with Lowcountry nature, to produce art work that represents each participant's view of their surroundings."
Much of photographer Eric Horan's master class will be held outside. An award-winning outdoor photographer, Horan has been capturing the natural beauty of the coastal southeast for over 20 years and invites other photographers to come along: "We'll visit nature preserves, pristine barrier islands, or travel the meandering intra-coastal waterways." Horan will share his local knowledge of what to shoot, where and when to find it, and provide useful techniques on how to approach subjects in the field. His work has been published in Business Week, Fortune, Time, Newsweek, the New York Times Sunday Travel, Travel Holiday, and Smithsonian, among others. His 2004 book Carolina Nature is working its magic on coffee tables everywhere: every time the images are seen, they offer privileged glimpses into the natural mysteries of the Lowcountry.
Painter Linda Sheppard encourages artists to express themselves in their own style, and inspires them to paint with the highest standards of artistic quality. "Students will work in oil or pastel from a live model, with the focus on drawing, composition, color, and value. The underlying abstract relationships between shapes and colors are significant elements in drawing and painting. I encourage them to think in these terms," explained Sheppard, who is a Fellow in the American Artists Professional League, a Signature Member of the Connecticut Pastel Society, and a recipient of an Outstanding Art Teacher award given by the National Endowment for the Arts in 2001. Her awards include the Gold Medal of Honor in the AAPL and multiple awards in national juried art shows.
Kim Keats' class, Basketry: From Tradition to Innovation, explores new approaches for creating both utilitarian and sculptural forms using traditional basketry construction methods, random weaving, and combination techniques. A 2010 SC Arts Commission Fellow, Kim Keats pursued her graduate studies in fibers at Arrowmont School of Arts and Crafts and received an MFA from Georgia Southern University. Kim's fiber works have been exhibited in the Gibbes Museum of Art in Charleston, SC, the Museum of York County in Rock Hill, SC, the South Carolina State Museum in Columbia, and the Orlando Museum of Art in Florida, as well as Palmetto Hands, Craft of the Carolinas, and Material Objects. Her sculptures are in the Mark B. Coplan Collection of Art at the South Carolina State Museum and the Medical University of South Carolina's Contemporary Carolina Collection. "I'll provide tools, along with imported and locally-collected indigenous weaving materials," said Keats. "An optional materials gathering session will also be scheduled."
"Lampworking allows almost anyone to learn to make glass beads safely using a torch," said Curtis Cecil, a self-taught glass artist from North Carolina with 30+ years of experience. "I blend traditional techniques with modern capabilities to create uniquely recognizable work," he concluded, summarizing not only his artform, but the careful approach taken in these MarshClasses at ARTworks, the home of the Arts Council of Beaufort County, a service organization dedicated to the arts here and now: 843-379-2787 and www.beaufortcountyarts.com .