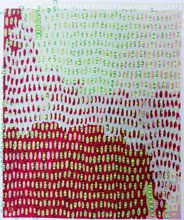 The Department of Visual Art & Design at the University of South Carolina Beaufort presents Regeneration, artwork by Mary Robinson, at the Sea Islands Center Gallery, now through March 27. A closing reception will take place Friday, March 27, from 5 to 7:30 p.m., with a gallery talk at 6 p.m. The Sea Islands Center Gallery is located at 1106 Carteret Street. 
Regenerationfeatures prints and mixed media works on paper, ranging from bright, organic drips and shapes to softly colored geometric structures and patterns. Robinson states that "this continual composing, decomposing, and recomposing reflects the way I experience the world, where circumstances can change quickly—technology is developing rapidly, political situations can suddenly flip, and the natural environment is breaking down at an alarming pace. My cyclical process of breaking forms apart and layering them back together mirrors desires for both order and disorder." 
Many artworks reference the natural world, such as Emerging, which is created with graphite, ink and watercolor on 60" x 75" paper.  The work conveys an sense of intricate dark vines and roots. Nightwalks consists of a pattern of squares, with each square containing chalk marks that serve as notational memories of a night walk. 
Work from the Traverseseries appears to be aerial in view, as if one's gaze is looking down on bodies of land surrounded by water, layered in cut out shapes, swirls of color, pencil drawings, and paint. 
Robinson's newly created prints from the Expand seriesfeature small, oval patterns, layered and printed on paper. The images appear microcosmic and microcellular, with faint lines of stitching evident through the work.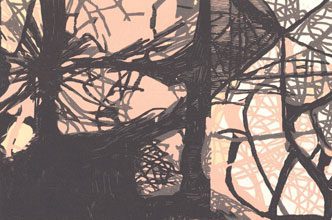 All of the prints are monotypes, which means they are one of a kind pieces. Robinson uses stencils and matrices, hand-cut from wood and other materials, in her relief and screen printing processes.  She states that she prints from "scraps" and that her technique is more similar to collage and collage-like painting. 
Mary Robinson is a Professor of Art and Director of Printmaking at the University of South Carolina. Her work has been exhibited in galleries, museums and art centers throughout the United States as well as in Australia, Denmark, England, Germany, Italy, Malaysia, Hong Kong, and South Korea. Recent exhibitions include a solo show at the Morris Graves Museum of Art in Eureka, CA, and several works in Independent Spirits: Women Artists of South Carolinaat the Columbia Museum of Art.
Robinson has attended residencies at the Frans Masereel Centrum in Kasterlee, Belgium; the Vermont Studio Center in Johnson, VT; Hambidge Center for Creative Arts and Sciences in Rabun Gap, GA; Mustarinda Art and Nature Centre in Hyrynsalmi, Finland; and the Lucid Art Foundation in Inverness, California; and was invited to be a Resident Artist at the Hong Kong Graphic Arts Festival. She has also studied traditional woodblock printing, papermaking and textile dyeing in Kyoto, Japan.
Robinson's work can be seen at www.marysdrawings.com.
Also on view is an artist bibliography book display, created by USCB art librarian/gallery co-director Ann Holderfield, featuring books that have influenced Mary Robinson in her development as an artist, as well as ones that provide contextual information to the exhibition.   
About the Sea Islands Center Gallery
The Sea Islands Center Gallery is the art gallery of the Department of Visual Art & Design of the University of South Carolina Beaufort. It is located on the Beaufort Campus in the Sea Islands Center building at 1106 Carteret Street. Since 2012, the gallery has hosted visiting artists, traveling exhibitions, group exhibitions, and shows of student work. The mission of the gallery is to promote the academic and creative programming goals of the Department of Visual Art & Design and to serve as a catalyst for creative inquiry and exploration within the Beaufort community. The directors of the Sea Islands Center Gallery are Ann Holderfield and Chad Penner. 
Contact the gallery at seaislandscentergallery@uscb.eduor 843-521-3147 for current hours. For information about the USCB Department of Visual Art & Design, contact Department Chair Chris Robinson at robinsct@mailbox.sc.edu.