The Society of Bluffton Artists Gallery announces "Diverse Themes and Styles" by Jim Simon which will run from August 24 through October 3.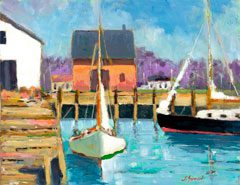 "Diverse Themes and Styles" represents a collection of Jim's acrylic paintings. The exhibit will include a variety of sizes and subjects ranging from Lowcountry landscapes and seascapes to figurative and abstract work.
A primary influence in Jim's early years as a painter was his aunt who told him "Paint what you see." Jim holds true to that advice today, but with his unique approach to both brush strokes and pallet knife. Jim attended the Abbey Art Institute in New York City and has studied sculpture in addition to painting. His sculpting abilities can be seen influencing the texture in his work.
Jim works in his studio in Bluffton from primarily from photos he takes around the Lowcountry and in his travels. His gallery affiliations include: Meghan Candler Gallery, Florida; Tryon Painters and Sculptors, North Carolina, Art League.of Hilton Head. He has also exhibited at the Vero Beach Msueum of Art and in the Art League of Hilton Head's annual Arts and Flowers Show in both 2007 & 2009.
Jim is looking forward to meeting patrons of the arts at his reception at the SoBA gallery on Sunday, August 30 from 3-5 PM. In addition to Jim's work, the six-week show will also exhibit the art of over 80 other artist members of SoBA. The gallery is located on Boundary Street in old Bluffton and is open Mon. through Sat. from 10-5. Call 843-757-6586 or visit the SoBA web site at www.sobagalleries.com for more information about the organization and participating artists.