Eliot Joanna Angell and Karen-Sam Norgard at USCB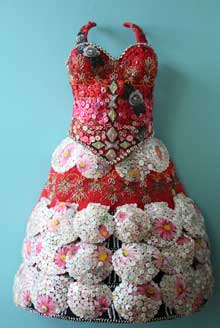 There are an infinite variety of reasons why women love dresses and wear them for so many occasions. Some styles are daring, some avant-garde, some whimsical and some just downright practical. And they all run the gamut between beautiful and plain -– but that assessment is highly subjective and totally dependent on the eye of the beholder.
Artists Eliot Joanna Angell and Karen-Sam Norgard will ask attendees to bring their collective "eye of the beholder" to the exhibit "All Dressed Up" at USCB Center for the Arts, running now thro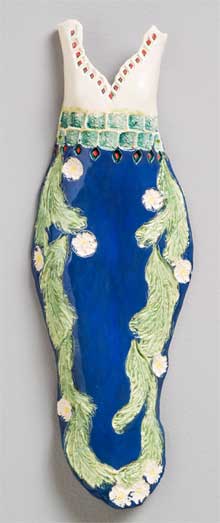 ugh February 12. This two-person exhibit showcases works by the artists who often explore a similar form: the dress.
Norgard uses the dress format to imply or disclose feelings that live on either side of this fabric divider – this thin layer separating the private and the public. She works in natural materials with her unique perishable dresses as well as beading, printmaking and photography. She produces her own line of elaborately beaded jewelry featured in galleries and jewelry stores, and is a dedicated member of the Savannah College of Art and Design faculty.
Angell works in sculpture, ceramics, printmaking and paint with works ranging from representational images to collages of real and abstract elements where birds and flying dresses tell dreamlike stories. For over 10 years she has created an array of wall-hanging ceramic dresses that explore femininity in all its rich diversity. She teaches Printmaking at Armstrong-Atlantic State University, and Ceramics, Drawing, and Design at USC-Beaufort. Her works are featured at the Telfair Museums in Savannah, GA, the Colleton Museum in Walterboro, SC, and Gallery 4463 in Acworth, GA.
"We are very excited to have such a rich mix of creative ideas and mediums on a single subject from two such accomplished artists," said Bonnie Hargrove, director of USCB Center for the Arts. The exhibit is free and open to the public Monday – Friday 10 Am – 5 PM. The public is invited to meet the artists at a reception on Sunday, January 27 from 2- 3:30 PM.