Carol Newsome will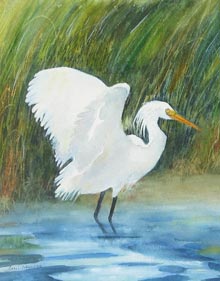 be the featured artist from August 5 through September 15 at the Beaufort Art Association Gallery. Carol first started painting in watercolor and it's her first love, but she's branched out to oil and acrylic. You will see some of each in her show. The public is invited to meet the artist at a reception on Friday, August 10th from 5:30 – 7:30 pm.
Like so many of our local artists, Carol finds her inspiration in her Lowcountry surroundings. "I can step outside and see live oaks with Spanish moss hanging from the branches, Palmetto trees, dogwoods, marshes and rivers, not to mention the short drive to Hunting Island Beach or the Waterfront park downtown. The Southern Magnolia is one of my favorite flowers to paint."
Since she started painting fifteen years ago, she always looks at nature and objects with her next painting in mind. She takes her own nature photos, and sometimes combines parts of several to make a painting. She also pays close attention to light and shadows, and this attention to detail is portrayed in her work.
Carol grew up in a small town in Eastern Kentucky. After graduating from Wayland High School, she married and started a family. After having her first child, she moved to Charleston, SC and then her family grew to six. She lived in Charleston for eleven years. Her husband's job then brought the family to Beaufort and Carol has lived here in Beaufort since 1975.
Carol got a job at Lipsitz department store in downtown Beaufort and worked there for seven years before getting a job at Belk as supervisor in the men's department, where she worked for seventeen years. When she retired she was free to paint. She spends lots of time in the art studio in her home. She loves teaching her grandchildren to paint and draw.
Carol has taken many workshops during the past fifteen years and has had many well-known instructors, including Steve Quiller, Linda Baker and Betty Carr. She has learned different techniques from each of them. She also draws inspiration and motivation from her family and a group of her artist friends who meet once a week and paint together.
Carol is an award winning artist and her work can be seen around town at the University of South Carolina Beaufort, Atmosphere, Beaufort Art Association Satellite Galleries, Beaufort OB-GYN and the Lowcountry Medical Group.