The Beaufort Art Association presents Morrison x 2, a featured artist exhibition by local Fripp Island artists, Dick and Ethelyn Morrison.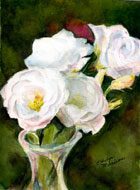 In retirement, the Morrisons have discovered a passion for creating art that is inspired by the beauty of our environment. Ethie primarily paints watercolors and prefers portrayals of landscapes and architecture with the intent of capturing the splendor of the world around us. Dick turns wood to create utilitarian objects that accentuate the natural beauty of wood.
Many Beaufort residents can relate to the Morrison's life journey because they dove into the art world after long and productive careers in other fields. In this case, both were educators in their past lives. Dick is from Indiana, and earned Bachelor and Master of Science degrees and a Doctorate in Education in his home state. He has been employed with the public schools in Indiana, Missouri, Kansas, Minnesota, and South Carolina. In Beaufort, he enjoyed working with students at Battery Creek High School as Assistant Principal for ten years prior to retiring in 1999.
Ethie was raised in Ohio but traveled to Indiana to earn a Bachelor of Arts degree in Zoology and a Master of Science degree. She taught science in the public schools in the same five states as Dick. Before retiring in 1999, she taught Biology for nine years at Beaufort High School.
Upon retirement, both Morrisons took classes in the Creative Retirement Center, now Osher Lifelong Learning, at the University of South Carolina in Beaufort (USCB). Ethie enjoyed painting classes with Alexandra Sharma at USCB and with Carrie Catlin on Fripp Island. When Dick decided to learn woodturning, the Morrison duo enrolled in several workshops with Elderhostel in West Virginia and at the John C. Campbell Folk School in North Carolina. Because of the wealth of art education available in the Beaufort area, both have had the opportunity to study under some widely known and respected instructors in their newly chosen passions.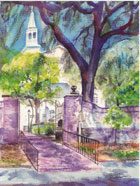 Ethie says, "We live in such a naturally beautiful spot on this earth, I try to capture a little of this as a record for those who come after us." She is also intrigued with architectural forms and has transformed this fondness into several paintings. Dick says, "Finding the natural beauty of wood inside the log is an exhilarating experience." He uses a variety of hardwoods in his woodturning, often turning wood that friends bring him from the midwest. This always rewards the bearer of the wood with a finished wood turning product.
Both Morrisons are active with others in the area who share the same addiction for their medium of art. Dick says, "Finding our hobbies after retiring from education has given each of us a wonderful area of interest. This has provided hours of enjoyment and concentration, as did education when we were working with young people." Ethie continues by saying, "Working, learning, exploring, and creating in the arts has made our retirement years invigorating and purposeful."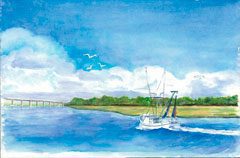 The opening reception for Morrison X 2 will be held on Friday, October 30th from 5:30 – 7:30 pm at the Beaufort Art Association Gallery, located in the George Elliott House at 1001 Bay Street. Get out on Friday to enjoy the exhibit and meet the Morrisons. If you cannot make it to the opening reception, the show will run from October 26th through December 5th. The gallery is open Monday through Saturday, 10:00 am – 5:00 pm. The art of 60 members of the Beaufort Art Association Gallery will also be showing in adjoining exhibits.