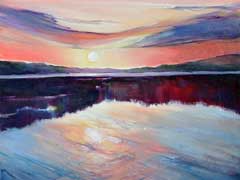 Joyce and Don Nagel present their recent oils and pastels in "Portfolio" opening with an artist reception on November 9 at 5-7pm at the Art League of Hilton Head Gallery. Painting demonstrations will be on Nov 13 at 11AM and Nov 20 at 2PM and a USCB Lifelong Learning presentation on Dec 1, 1-3PM. The show runs through December 4. For details call 843-681-5060 or visit www.artleaguehhi.org
Joyce and Don Nagel barely need an introduction in the HHI area. As painters, instructors and workshop leaders they are well known to local art aficionados.
Enjoying the slower pace of life on HHI, Joyce Nagel mostly paints in pastels, but also in oils. She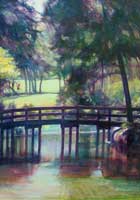 says, "My Lowcountry summer has allowed me to indulge in painting on canvas and the glazing of the oil paints. My experience with the immediacy of pastel layering has brought a new richness to my oils with the layering of color on color. "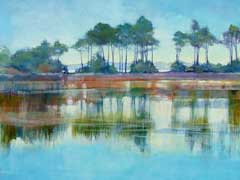 Joyce has demonstrated her pastel underpainting technique on locations in France and the United States. Her pastels have earned awards in exhibitions sponsored by the Degas Pastel Society, the Kansas Pastel Society, the Maryland Pastel Society, the Southeastern Pastel Society (of which she is a Member of Excellence), the Pastel Society of the West Coast and the Pastel Society of America, of which she is a signature member.
Joyce is a member of the co-op Maye River Gallery of Bluffton. Her work can be seen at corporate collections in the U.S. She has worked in graphic design studios and as a freelance designer and has been an instructor of drawing, design and printmaking.
Don Nagel is inspired by the serenity of the Lowcountry. "In looking around for subjects to paint, I came across a few reminders of the 'good old days' as I remember them. Life was much simpler then, it was life in the 'Slowcountry'."
Don works on Art Spectrum sanded pastel paper and does an underpainting with complementary
colors using hard pastel and alcohol. He builds up the color and values with NuPastel and finishes with various soft pastels. His pastels may be seen at the Art League of Hilton Head Gallery. He is a member for the Degas Pastel Society, Pastel Society of America and a Member of Excellence in the Southeastern Pastel Society. His paintings hang in private and corporate collections and have received awards from regional and national pastel societies.
Don was born in Pittsburgh, Penn. He worked in Detroit ad agencies for over 30 years where he was the head art director for major corporate clients.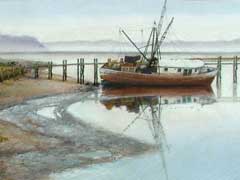 After the Nagels moved to Hilton Head Island in 1986, Don became a freelance graphic designer and has received awards from local and national art director's clubs, including the New York Art Director's Club and a Cleo award for television.
Joyce and Don have given regional and national workshops in pastel painting and are faculty members of the Art Academy of the Art League of Hilton Head.
They have made several group painting trips to France and Italy and have teamed up to give workshops called "Two Points of View… or there's more than one way to look at a landscape."
Come enjoy Joyce and Don Nagel's artist reception and superb work. Other Art League artists' work will also be on exhibit at the gallery.
The Art League of Hilton Head Gallery in Pineland Station Mall is open Monday-Saturday, 10:00 a.m. till 6:00 p.m. For additional information call the Gallery at 843-681-5060 or visits www.artleaguehhi.org